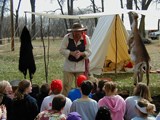 November 11, 12 and 13, 2006
Come celebrate the story of the Lewis and Clark Expedition and their journey home.
Hear first hand accounts of the harrowing adventures, enjoy music of the time period, see the tools of the trade, witness a gifting ceremony with the Shawnee...
Outdoor exhibits and reenactors breath life into the story of the expedition and the story of westward movement. Special presentations and programs will be occurring throughout the weekend. This event is free and open to the public! School groups are welcome and encouraged to call in advance.
See schedule below.
For more information please call the park visitor center at (606) 248-2817, extension 1075.
In May of 1804 two men headed up an expedition that was unlike anything that had been attempted before. The mission was to explore a wild, new land, west of the mighty Mississippi River. It would ultimately take them west along the Missouri River, across the Rocky Mountains, down the Columbia River to the Pacific Ocean, and then back again - a journey of some 8,000 miles! They were military men with whom President Thomas Jefferson had placed his trust to explore new territory recently acquired by the United States. Their names were Meriwether Lewis and William Clark.