Guided Tours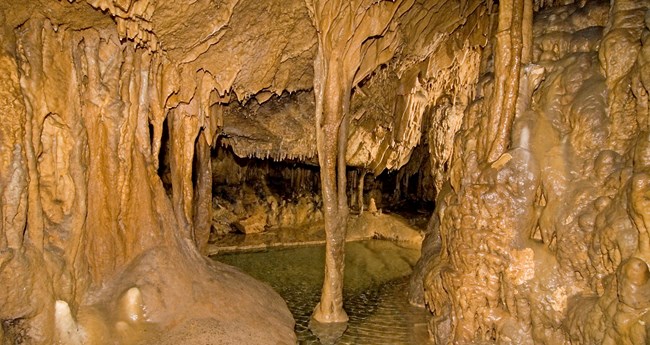 Gap Cave Tours (formerly known as Cudjo's Cave)
Alert! A disorder known as White-Nose Syndrome is killing hundreds of thousands of bats throughout the eastern United States and has been found in park caves. Evidence suggests that the fungus that causes the disorder may possibly be spread by humans who venture into different caves. Please wear appropriate footwear and clothing that have not been in other caves or footwear and clothing that have been properly decontaminated. more...
Link to White Nose Syndrome information site
Bats In Crisis videos
Join park rangers on an exciting two-hour adventure exploring this majestic underground cathedral! Discover glistening stalagmites and flowstone cascades. You might even catch a glimpse of a bat or salamander.
Guided tours are offered from April 21 to September 30.
All Gap Cave Tours start at 10 a.m.
May 29 - August 13 - every day
August 14 - September 30 - every Wednesday, Thursday, and Sunday; Saturday, August 5th; Saturday, August 19th.
How to participate in a Gap Cave Tour:
REQUIRED! Make a reservation, by noon the day before desired tour date
Come to visitor center and pay for your tour at least 30 minutes before your tour starts
Meet at Daniel Boone Parking and Exhibit Area at least 15 minutes before your tour starts
Important things to know for a safe and enjoyable Gap Cave Tour:
Tours consist of 1.5 miles of moderately strenuous exploration of 3 cave levels via 183 stairs
Wear closed toe, closed heel, comfortable shoes
Visitors with health or mobility concerns should carefully consider their limitations
Tours are open to ages 5 and up only
If no reservations have been booked by noon the day before the tour, it will be canceled
Reservations are accepted by phone or in person only between the hours of 9:00 a.m. and 4:00 p.m. daily
Reservations can be made up to 1 month in advance by calling the visitor center at 606-248-2817
Tours are limited to 20 people
Tours are subject to change due to inclement weather or other unforeseen circumstances
Those who are sick, have Covid 19 symptoms, or have been exposed to someone with Covid 19 symptoms should not participate in the tour
Ticket prices:
Adults - $8.00
Interagency Senior Pass - $4.00
Interagency Access Pass - $4.00
Children ages five through twelve - $4.00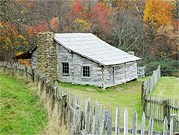 Hensley Settlement Tours
Join park rangers and step into the past at the historic Hensley Settlement on top of Brush Mountain. Stroll down fence-lined lanes, look into the springhouse, and sit in the one-room schoolhouse. The Hensley Settlement was established in 1903 by Sherman Hensley and was occupied until 1951. The historic buildings remain and can be visited on this 4 1/2 to 5 hour tour.
Tours are offered from mid May until late October.
All Hensley Settlement Tours start at 10 a.m.
June 1 - August 13 - every Thursday - Sunday.
August 14 - September 24 - every Friday and Sunday; Saturday, August 12th; Saturday, August 26th; Saturday, September 9th; and Saturday, September 23rd.
September 25 - October 31 - every day.
How to participate in a Hensley Settlement Tour:
REQUIRED! Make a reservation, by noon the day before desired tour date
Arrive at the visitor center at least 15 minutes prior to the tour, to check in and pay for your tickets
Important things to know for a safe and enjoyable Hensley Settlement Tour:
Tour departs from visitor center via shuttle, then once at the settlement the tour requires walking one mile
Wear comfortable walking shoes
Pack a cold lunch you can hold on your lap for lunch with a ranger at Hensley Settlement
If no reservations have been booked by noon the day before the tour, it will be canceled
Reservations can be made up to 1 month in advance by calling the visitor center at 606-248-2817
Reservations are accepted by phone or in person only between 9:00 a.m. and 4:00 p.m. daily
Tours are limited to 10 people
Tours are subject to change due to inclement weather or other unforeseen circumstances
Those who are sick, have Covid 19 symptoms, or have been exposed to someone with Covid 19 symptoms should not participate in the tour
Ticket prices:
Adults - $10.00
Interagency Senior Pass - $5.00
Interagency Access Pass - $5.00
Children ages twelve and under - $5.00


Last updated: May 31, 2023