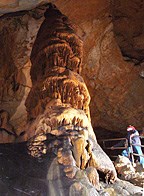 Gap Cave Tours (formerly known as Cudjo's Cave)
Alert! A disorder known as White-Nose Syndrome is killing hundreds of thousands of bats throughout the eastern United States and has been found in park caves. Evidence suggests that the fungus that causes the disorder may possibly be spread by humans who venture into different caves. Please wear appropriate footwear and clothing that have not been in other caves or footwear and clothing that have been properly decontaminated. more...
Link to White Nose Syndrome information site
Bats In Crisis videos
Join park rangers on an exciting two-hour adventure exploring this majestic underground cathedral! Discover glistening stalagmites and flowstone cascades, or catch a glimpse of a bat.
The moderately strenuous, 1.5 mile tour explores four levels of the cave via 183 steps. The tour includes a 1 mile hike along the historic Wilderness Road. For the safety of all, no children under the age of five are permitted. Appropriate hiking footwear is required. No sandals or open toed shoes are allowed.
Meet at the Daniel Boone parking area. Tickets must be purchased at least 15 minutes in advance.
Tour has limited capacity. Reservations are recommended and can be made up to one month in advance by calling the park visitor center at (606) 248-2817.
Prices
Adults - $8.00
Visitors with Golden Age, Interagency Senior Pass or Access Pass - $4.00
Children five through twelve - $4.00
2017 Schedule
April 16 - May 26
Weekends only. Depart 12:30 pm; return 2:30 pm
May 27 - September 30
Daily except Thursday. Depart 12:30 pm; return 2:30 pm

*No cave tours will be offered on May 13, 2017, May 14, 2017, August 22, 2017, or September 2, 2017.