Campgrounds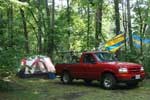 The 160 site Wilderness Road Campground is located approximately 3 miles from the park visitor center off of Highway 58 in Virginia.
To get there:
Address:
854 National Park Road, Ewing, VA 24248
Coordinates:
83 37 58.12 W and 36 36 15.12 N
20, 30 and 50 amp electrical hookups are available at 41 of the sites. Hot showers and potable water are located in the comfort stations. Camping rigs up to 50 feet can be accomodated at these sites. Sites are accessed through paved loop roads. Most of the sites require backing in with the exception of one pull through site.
Campsites are available on a first-come, first-served basis.
Camping fees:
$14.00 per night per site for tent sites with no electricity,

$20.00 per night per site for electrical hookup.
All tent and RV sites are one-half price for Golden Age, Interagency Senior Pass and Interagency Access Pass holders.
Group campsites are available. Cost is $35.00 per night per site.
Reservations for group campsites can be made up to 90 days in advance by calling the park visitor center at (606)248-2817.
FIREWOOD ALERT!
Please purchase or gather firewood locally to avoid bringing in the exotic Emerald Ash Borer or the Asian Long Horned Beetle. These exotic insects can be easily spread by bringing in infested firewood from outside the area.
more...
Please be aware of bears! Bears are active in the backcountry. All food must be properly stored using approved bear proof containers or elevated to a height of at least 10 feet. Please report any bear activity to a park ranger or by calling the park visitor center at (606) 248-2817. more...


Last updated: December 16, 2020