Accessibility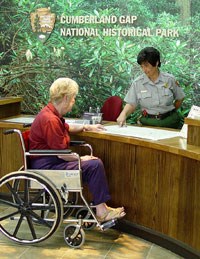 The park's visitor center complex includes a museum, auditorium, sales areas and restrooms. All are accessible, allowing for wheelchair use. Designated parking allows easy access to the building. Multimedia exhibits in the museum allow for use of different senses. The park films feature close captioning; assisted listening devices are available.
At an elevation of 2,440 feet, the Pinnacle Overlook is perhaps the most visited area in the park. A level 1/4-mile paved trail provides access to this overlook, from which visitors have a spectacular view into Kentucky, Tennessee, and Virginia. Accessible restrooms are located near the overlook.
Accessible drive-in campsites are available at the park's Wilderness Road Campground. Surfaces within these sites have been hardened, the height of fire grates has been increased, and picnic tables have been modified. Restrooms and showers are accessible and are family friendly for visitors with small children. A short, paved trail leads to the campground's amphitheatre, where park rangers present programs on the cultural and natural history of the park.


Last updated: April 14, 2015