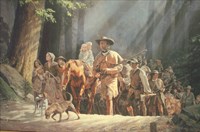 Millions of Americans carry in their blood a pioneer spirit passed down from ancestors who bravely migrated west through the Cumberland Gap in the 18th century.
Lincoln and Boone, we remember. Others are long since forgotten...Women who turned a wilderness into a homeland, African-Americans who helped tame the howling frontier, doctors who mended broken bodies, missionaries who saved souls, tombstone carvers whose rocky memorials remind us of forgotten forebears...
Your forgotten forebears.