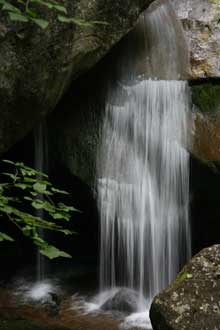 Martin's Fork, Shillalah, Devil's Garden, Sugar Run, and Davis Branch are streams found in Kentucky. Lewis Hollow and Station Creek are streams found in Virginia. All these streams begin inside the park.
Other streams are located in the park but do not originate inside the park.
Martin's Fork and Shillalah Creek have supported brook trout in the past. Davis Branch supports a federal threatened species, blackside dace. All streams are bordered by forests, mountain laurel, and/or rhododendron.