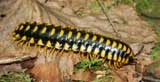 Insects, Spiders, Centipedes, and Millipedes Known to Occur in Cumberland Gap National Historical Park
INSECTS
Order Diptera – Flies
Family Athericidae
Atherix sp.
Family Blephariceridae - Net-winged midges
Blepharicera sp.
Family Dixidae - Dixid midges
Dixella sp.
Family Dolichopodidae – Long-legged flies
Rhaphium sp.
Family Empididae - Dance flies
Chelifera sp.
Hemerodromia sp.
Family Limoniidae
Antocha sp.
Pilaria sp.
Family Muscidae – House flies
Limnophora sp.
Family Pediciidae
Dicranota sp.
Family Simulidae - Black flies
Prosimulium mixtum
Simulium sp.
Family Stratiomyidae - Soldier flies
Stratiomys sp.
Family Tabanidae – Horse flies and deer flies
Tabanus sp.
Family Tipulidae - Crane flies
Prionocera sp.
Tipula sp.
Order Coleoptera – Beetles
Family Dryopidae - Long-toed water beetles
Helichus basalis
Helichus lithophilus
Family Elmidae - Riffle beetles
Anchytarus bicolor
Dubiraphia bittata
Macronychus glabratus
Optioservus ovalis
Stenelmis crenata
Family Gryinidae - Whirligig beetles
Dineutus assimilis
Gyrinus lugens
Family Hydrophilidae - Water scavenger beetles
Hydrobius melaenus
Paracymus sp.
Tropisternus blatchleyi blatchleyi
Tropisternus glaber
Tropisternus lateralis nimbatus
Family Psephenidae - Water penny beetles
Ectopria sp.
Optioservus trivittatus
Psephenus herricki
Stenelmis sp.
Order Ephemerata– Mayflies
Family Baetidae – Mayflies
Baetis brunneicolor
Baetis intercalaris
Pseudocloeon sp.
Family Baetiscidae - Armored mayflies
Baetisca gibbera
Family Ephemerellidae - Spiny crawler mayflies
Attenella attenuata
Drunella cornutella
Ephemerella dorothea
Ephemerella invaria
Ephemerella rotunda
Eurylophella doris
Serratella deficiens
Family Ephemeridae – Common burrowing mayflies
Ephemera blanda
Ephemera guttulata
Ephemera varia
Family Heptageniidae
Epeorus dispar
Epeorus rubidus
Stenacron pallidum
Stenonema exiguum
Stenonema femoratum
Stenonema interpunctatum
Stenonema vicarium
Family Isonychiidae
Isonychia sp.
Family Leptophlebiidae - Prong-gilled mayflies
Habrophlebia bibrans
Habrophlebiodes sp.
Paraleptophlebia guttata
Order Hemiptera – True bugs
Family Gerridae – Water striders
Gerris remigis
Rheumatobates rilevi
Trepobates sp.
Family Veliidae – Broad-shouldered water striders
Microvelia paludicola
Rhagovelia obesa
Order Megaloptera– Dobsonflies
Family Corydalidae - Dobsonflies, Fishflies
Corydalus cornutus
Nigronia fasciatus
Nigronia serricornis
Order Neuroptera – Lacewings
Family Sialidae – Alderflies
Sialis sp.
Order Odonata – Dragonflies and damselflies
Family Aeshnidae – Darners
Aeshna umbrosa
Boyeria grafiana
Boyeria vinosa
Family Calopterygidae - Broad-winged Damselflies
Calopteryx dimidiata
Calopteryx maculata
Family Coenagrionidae - Narrow-winged Damselflies
Argia fumipennis fumlpennis
Argia sedula
Enallagma divagans
Family Corduligastridae – Spiketails
Codulegaster erronea
Codulegaster fasciata
Codulegaster maculate
Family Corduliidae – Emeralds
Helocordulia uhleri
Macromia taeniolata
Somatochlora linearis
Family Gomphidae – Clubtails
Dromogomphus spinosus
Gomphus abbreviatus
Lanthus parvulus
Stylogomphus albistylus
Family Libellulidae – Skimmers
Dythemis velox
Erythemis simplicicollis
Order Plecoptera – Stoneflies
Family Capinidae - Smallwinter stoneflies
Allocapnia sp.
Family Chloroperlidae - Green stoneflies
Rasvena terna
Utaperla gaspesiana
Family Leuctridae - Rolled-winged stoneflies
Leuctra sp.
Family Nemouridae - Spring stoneflies
Amphinemura delosa
Amphinemura wui
Hastaperla (Haploperpla) brevis
Nemoura sp.
Family Peltoperlidae - Roachlike stoneflies
Peltoperla sp.
Tallaperla sp.
Family Perlidae – Common stoneflies
Acroneuria abnormis
Acroneuria carolinensis
Acroneuria lycorias
Eccoptura xanthenes
Isoperla sp.
Perlesta sp.
Family Perlodidae - Perlodid stoneflies
Yugus arinus
Family Taeniopterygidae - Winter stoneflies
Taeniopteryx metequi
Order Trichoptera – Caddisflies
Family Apataniidae
Apatania sp.
Family Glossosomatidae
Agapetus sp.
Glossosoma sp.
Family Goeridae
Goera calcarata
Family Hydropsychidae - Net Spinning caddisflies
Cheumatopsyche sp.
Diplectrona modesta
Potamyia flava
Symphitopsyche bifida
Symphitopsyche bronta
Symphitopsyche sparna
Family Lepidostomatidae
Lepidostoma sp.
Family Limnephilidae - Northern caddisflies
Ironoquia sp.
Pseudostenophylax uniformis
Pycnopsyche divergens
Pycnopsyche lepida
Pycnopsyche luculenta
Pycnopsyche scabripennis
Pycnopsyche uniformis
Family Philopotamidae - Finger net caddisflies
Chimarra sp.
Dolophilodes sp.
Wormaldia sp.
Family Polycentropodidae
Neureclipsis sp.
Nyctiophylax sp.
Polycentropus sp.
Family Rhyacophilidae - Primitive caddisflies
Rhyacophila carolina
Rhyacophila fuscula
Rhyacophila glaberrima
Rhyacophila nigrita
Rhyacophila torva
Family Uenoidae
Neophylax oligius
Neophylax mitchelli
Taxonomic nomenclature from http://www.discoverlife.org