Fern Lake Land Acquisition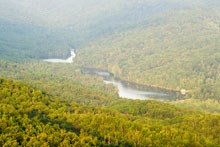 As a result of the Fern Lake Conservation and Recreation Act in 2001, the park was authorized to complete one of its' original goals; the protection of the Fern Lake Watershed. The 4,500 acre area provides both a scenic view from the park's most visited point, the Pinnacle Overlook, and also provides clean drinking water to the nearby city of Middlesboro, Kentucky. The protection of the watershed was a "win-win" for everyone in the Tri-State area, and work immediately began to actually purchase the lands.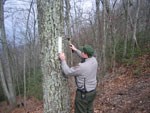 The first two phases (1,850 acres) were completed in the Spring of 2008, and involved the Trust for Public Lands (TPL) purchasing the land from Ataya Hardwoods, and then transferring the land to the National Park Service using money from the land and Water Conservation Fund.
Phase III (1,268 acres encompassing the headwaters) was finalized in January of 2009 through a similar, cooperative effort with Molpus Woodlands Group, and a fourth phase involving 905 acres from Molpus was completed in the spring of 2009.

map of fern lake land acquisition (11.17 mb)
This new acquisition of lands around Fern Lake increased the park acreage by approximately 20 percent!

The result is the permanent protection of the watershed and the viewshed for the public, and the addition of a new portion of the park for visitor to explore.
Last updated: April 14, 2015