For Kids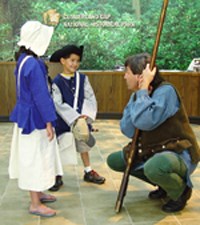 The Pioneer Playhouse!
Kids and kids at heart can experience the life of a pioneer at the pioneer playhouse in the visitor center. Don a tri-corn hat, a chamise, a hunting frock or linsey-woolsey breeches and pack your possible bag!
Museum
Explore the visitor center museum and learn about the park through hands on exhibits. See actual artifacts and lighted displays. Touch the skins of animals!
Junior Ranger Program
Learn about Cumberland Gap National Historical Park and become a Junior Ranger! Junior Ranger badges are available to all who participate.


Last updated: April 14, 2015