Worker Housing
The Worker Housing is privately owned and not open to the public.
Please be respectful of the current residents.
---
The Worker Housing, located on Huyshope Avenue and Van Block Avenue, were built in 1856 to provide housing for employees at Colt's Patent Firearms Manufacturing Company.

Samuel Colt believed that by building housing near the factory and providing recreational opportunities, he would be able to hire and retain skilled workers for his firearms factory. In the late 1850's Colt built twenty houses behind the factory that housed up to 145 families.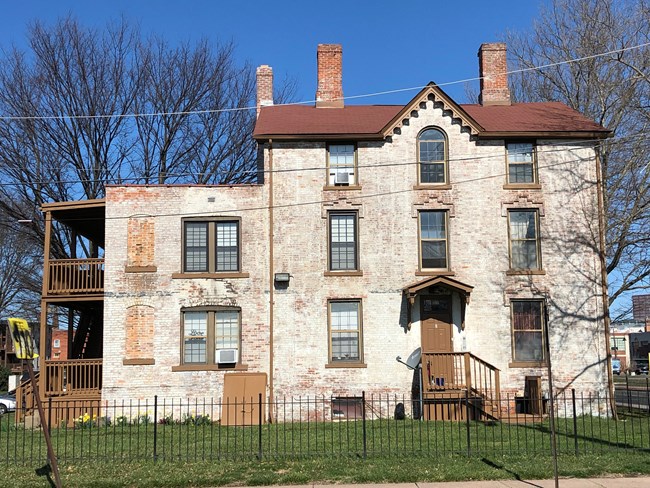 Designed in two different styles: Gothic Revival (located on Huyshope Ave) and Italianate (located on Van Block Avenue), both were meant to attract skilled immigrant workers from Germany and Ireland. The brick Gothic Revival Houses were built to house six families each while the Italianate houses, with their exterior stairwells, could house up to eight families.
To provide a sense of privacy and ownership, trees were planted along the streets and fences were erected. The houses reflected Colt's paternal nature for his employees by ensuring that they had access to fresh air and open spaces for recreation by leaving space between the houses; this was contrary to how other industrial villages were designed at the time.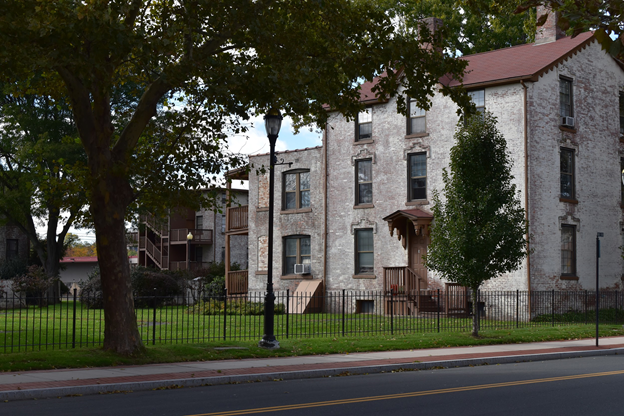 Aside from providing his workers with a place to live, Colt built various recreational facilities including a beer hall and Charter Oak Hall. Charter Oak Hall was community center built by Samuel that opened in 1856 in the South Meadows. Here workers were able to read books and newspapers, hold gatherings and dances, host exhibits and attend lectures. Samuel sponsored Colt's Armory Guards, Colts' Rifle Regiment, and the famed Colt Band for his workers.
The concept of paternal
industrial cities
was not new as the idea had existed in Europe for quite some time. Examples of paternal industrial cities were found in Massachusetts in Lowell and Lawrence at the textile mill communities.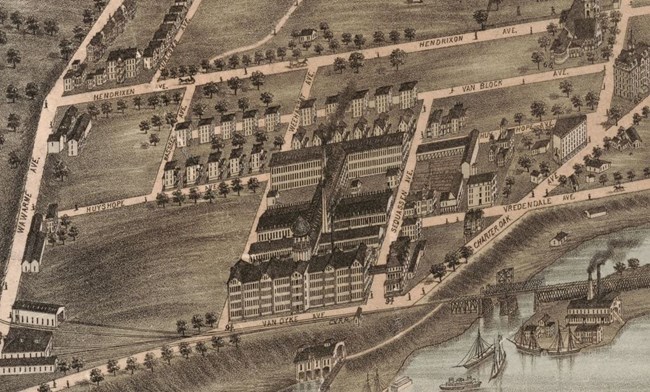 Craftsman, machinists and toolmakers lived in the houses when they were first built, but by the 1880s, most of the skilled laborers moved out as they found more favorable housing opportunities elsewhere and the houses were then occupied primarily by unskilled workers.
During World War II, due to an expanding work force, ten houses, across from the Machine Shop (now the Greater Hartford Academy of the Arts), were demolished to make room for an employee parking lot. The ten remaining houses have since become privately-owned condominiums. Though Coltsville is no longer an industrial community, the homes exist as a reminder of past times.
In 1976 the Worker Housing was designated as contributing buildings to the Colt Industrial District and in 2008 the Coltsville Historic District was designated as a National Historic Landmark District. In 2014, the United States Congress authorized creation of the Coltsville National Historical Park which includes the Worker Housing. Today, the remaining ten buildings reflect the ingenuity of a man who strived to build a workplace that felt like a family.
Last updated: April 7, 2021