Armsmear (Samuel and Elizabeth Colt House)
Armsmear is a private residence and not open to the public. Please be respectful of the current residents.
---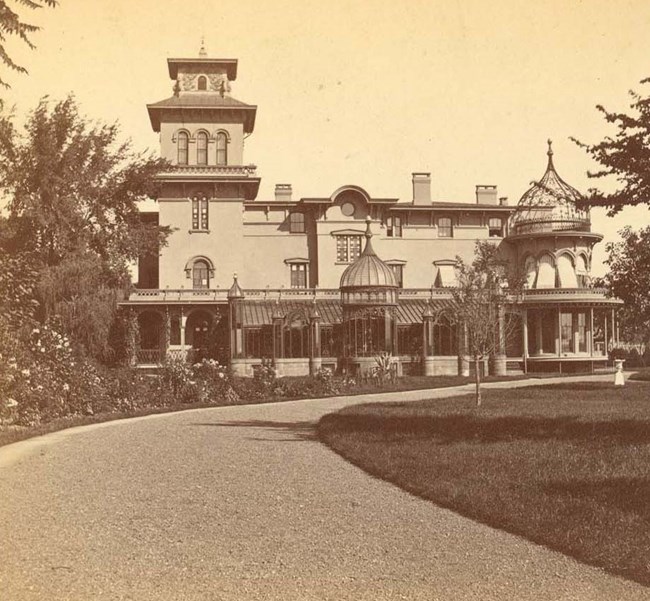 Overlooking Colt Park and Colt's Patent Firearms Manufacturing Company, Armsmear, on Wethersfield Avenue, is the family home of Samuel Colt and Elizabeth Hart Jarvis Colt. Meaning "the meadow of arms," Armsmear became a lasting symbol, sitting atop a meadow overlooking the firearms factory, of family and community.


"This house, when it was one home, was a place of family worship."
Dr. Samuel Hart, The Hartford Courant,
January 8th, 1912

Armsmear was commissioned by Samuel Colt and built between 1856 and 1857 by local architect, Octavius Jordan, and remained the Colt family home until Elizabeth's death in 1905.
Armsmear is an Italianate Villa with Moorish Elements; a design that was inspired by the Colt's travels in the East, being Turkey, Iran, France and Great Britain. Prior to the Civil War, it was considered to be one of the grandest and exotic residences in the United States.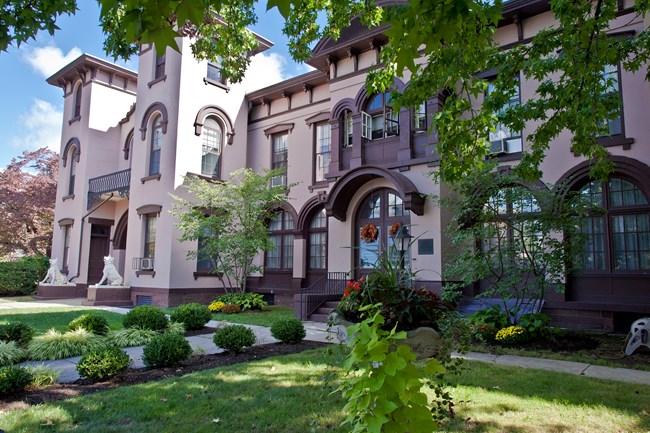 Armsmear, a true metaphor of Samuel's career as a businessman, it was constantly evolving and reflected a spectacle of changed plans and new evolutions. Built of brick, stuccoed, and painted a cream color, the house sat amongst landscaped gardens that included fountains, and statues.
The residence, when originally constructed, had an ogee dome, similar to that of the one on the East Armory, three towers and elaborate glass conservatories. With its irregular design of two-and three-story blocks, rectangular and arched windows framed in by brownstone and balconies, Armsmear was a marketing call for Samuel Colt, much like the
Blue Onion Dome
.
It was a state-of-the-art building at the time, including gas lighting, a plumbing system, and numerous clear paned glass windows. A pair of Uffizi Dogs, replicas of ones from Rome's Hellenistic Period, guarded the front door and still do today.
In decorating the interior of Armsmear, Samuel commissioned Ringuet-LePrince & Marcotte, a firm that had offices in New York and Paris. In selecting this firm, Samuel ensured that his furnishings would have a worldly feel.
The house was exquisitely decorated with numerous chandeliers, pieces of furniture specifically designed for the Colts, and custom rugs, carpets and curtains. Samuel and Elizabeth were both involved in the design process, often making suggestions. Even while spending thousands of dollars to furnish the house, Samuel was budget conscious and questioned from time to time why some items were billed higher than the original estimate.
Throughout the lives of the Colts, Armsmear was a gathering place for family and friends. Parties were held on the grounds, including Caldwell's 21
st
birthday, numerous philanthropic meetings, and gatherings for Colt Armory employees.
After Samuel's passing, Elizabeth reimagined the public rooms of Armsmear. The ballroom became a private art gallery and a reception room replaced the music room. Elizabeth continued to add to her private art collection until her passing, giving Armsmear an eclectic, worldly feel.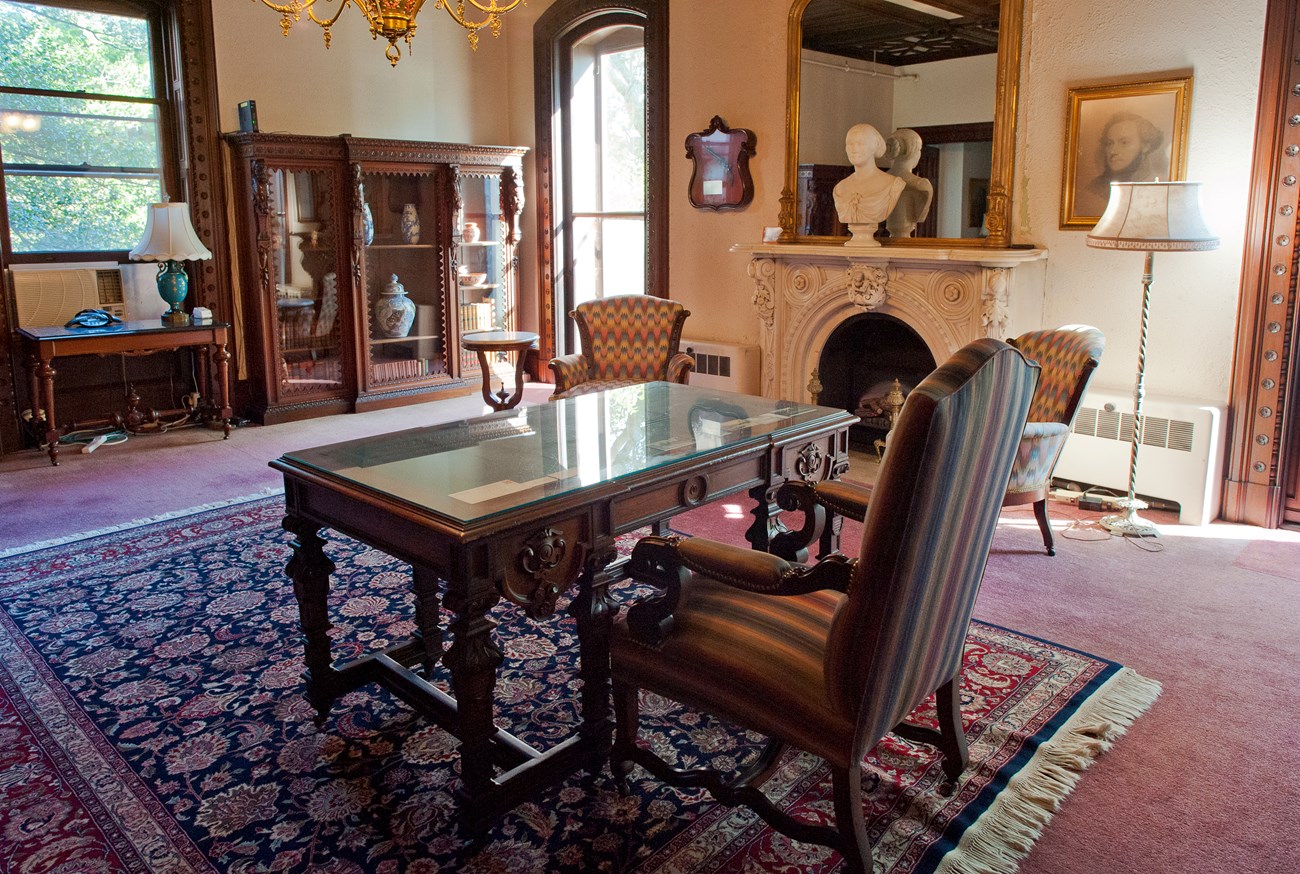 Elizabeth became an avid collector in the late 1800s, transforming her library (designed by Edward Tuckerman Potter in the 1870s) into a room for her fondest memories. Armsmear was thus converted into a monument to Samuel and Elizabeth's lives, with displays of his gifts to her, his prized possessions, and purchases from her travels that she felt memorialized her life.
The philanthropic mission of Elizabeth continued even after her death as
Armsmear
became a residence for senior women of faith with limited income and assets. It underwent renovations to create separate apartments, offices, and a chapel before it opened in 1911 after delays in the construction.
Elizabeth funded the Elizabeth Hart Jarvis Colt Memorial Wing in the
Wadsworth Atheneum Museum of Art
, which was the first wing in an America municipal museum to be named for a woman. Many of the possessions acquired throughout the Colt's travels and personal possessions were bequeathed to the Museum and are periodically on display.
Armsmear has undergone many changes, but it still maintains the spirit of Elizabeth through its mission of service.
In 1935 Armsmear was registered as a Historic Site through the Historic Sites Act and in 1966 it was designated as a National Historic Landmark. In 2008 it became a contributing building to the Coltsville Historic District and is registered as a National Historic Landmark. In 2014, the U.S. Congress authorized creation of the Coltsville National Historical Park.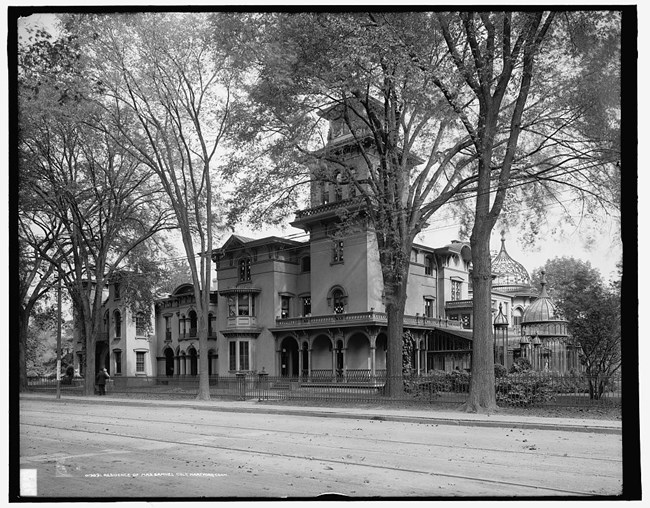 "The thought must be in the minds of all of us today that Armsmear has entered upon a career of usefulness which will continue for many generations." Reverend George T. Linsley, The Hartford Courant, January 8th, 1912
Last updated: April 7, 2021