Buffalo Soldiers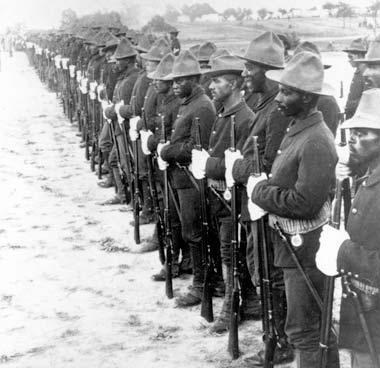 African Americans served in the U.S. Military during the Civil War and continued to serve afterwards. Many of these soldiers went on to fight in the Spanish-American War and the Philippine-American War. Although the pay was low, only $13 a month, many African Americans enlisted because they could earn more and be treated with more dignity than they often received in civilian life.
In 1866, Congress established six all-black regiments (consolidated to four shortly after) to help rebuild the country after the Civil War and to fight on the Western frontier during the Plains Wars. It was from one of these regiments, the 10th Cavalry, that the nickname Buffalo Soldier was born. American Plains Indians who fought against these soldiers referred to the black cavalry troops as "buffalo soldiers" because of their dark, curly hair, which resembled a buffalo's coat and because of their fierce nature of fighting. The nickname soon became synonymous with all African-American regiments formed in 1866.
In addition to their military duties, the Buffalo Soldiers also served as some of the first care takers of the national parks. Between 1891 and 1913, the U.S. Army served as the official administrator of Yosemite and Sequoia National Parks. The soldiers were stationed at the Presidio of San Francisco during the winter months and then served in the Sierra during the summer months. While in the parks, soldier's duties included fighting wildfire, curbing poaching of the park's wildlife, ending illegal grazing of livestock on federal lands, and constructing roads, trail and other infrastructure. In 1903, Captain Charles Young led a company of Buffalo Soldiers in Sequoia and General Grant (now Sequoia and King's Canyon) National Parks. Young and his troops managed to complete more infrastructure improvements than those from the previous three years. They completed a road to the Giant Forest and a road to the base of Moro Rock. Their work on these new roads now allowed the public to access the mountain-top forest for the first time.
The Buffalo Soldier regiments went on to serve the U.S. Army with distinction and honor for nearly the next nine decades. The storied Buffalo Soldiers regiments came to an end during the Korean War and the institution of Executive Order 9981.

Here we present the individual stories of the Buffalo Soldiers sorted by the regiments in which the men served. Choose a regiment from those pictured and listed below to view their stories.

Last updated: January 5, 2023