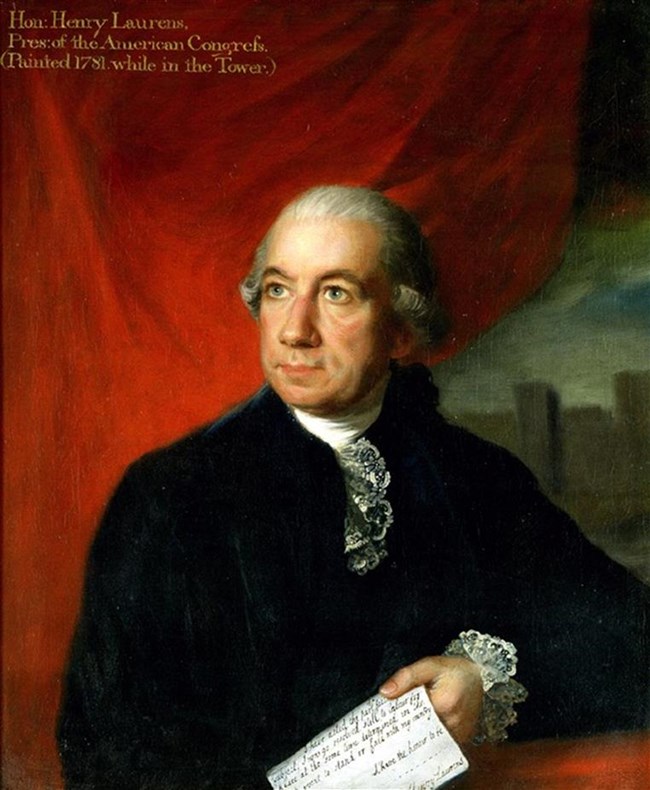 Henry Laurens – "His story is at the core of colonial South Carolina and wrought with intrigue, a conflicting moral compass, family, loyalty, and a fierce passion for American Independence." (1)

Henry Laurens was born in Charles Town in 1724. He was the grandson of French Huguenot immigrants who were members of the Reformed Church that was established by John Calvin in 1550.3 They fled to England and then Ireland after the revocation of the Treaty of Nantes finally immigrating to New York City. In 1715 the Laurens family settled in Charles Town where they became very wealthy.
Henry, the first son in the family, was educated in Charles Town and worked in a local counting-house. He was sent to England by his father to learn a trade (3). He trained under a prominent British merchant. He returned to South Carolina in 1747. At this time, planters were able to ship their rice directly to ports south of Cape Finisterie in Spain. This made Charles Town the busiest port in America (4). In 1748 Henry opened an import export business in Charles Town, Austin and Laurens (5). They imported rum and British mercantile goods (2). He made contacts while in London that he entered the slave trade with, Grant, Oswald & Company (the company that controlled the slave outpost Bunce Castle located in Sierra Leone) (3). His company contracted to receive, catalog and market slaves by conducting public auctions in Charles Town. They handled the sale of over 8,000 Africans. The firm also traded in Carolina Gold rice, indigo and deerskins, tar, pitch, silver and gold (5)(2). They also sent Colonial merchandise to England on returning ships. For this the company received 10% commission on slave cargoes (3). The expenses incurred while providing for the slaves between landing and the sale and accountability for debts were the responsibility of Austin and Laurens. They were expected to remit accounts after the sales were made regardless of when they were actually paid. They allowed planters up to six months to pay them. Laurens reported netting between 8% and 9% from his share of the sales of slave cargoes.
In 1755 Henry wrote to another business, Smith & Clifton, explaining in depth what local planters looked for in slaves. The following is an excerpt:
very likely healthy People, Two thirds at least Men from 18-25 Years old, the other young Women from 14-18 the cost not to exceed Twenty five Pounds Sterling per head... There must not be a Callabar* [sic] amongst them. Gold Coast and Gambias are best, next to them the Winward Coast are prefer'd to Angolas. We would not choose them sent in the Hurricane Season but rather to come in the months of October or November. Pray observe that our people like tall Slaves best for our business and strong withall. Such as small, meager or other ways ordinary won't sell better here than with you. The difference in price between Men and Women is never less than £ 3 Sterling per head, sometimes £ 6. (9)
* Callabar was a port in Nigeria.