Eliza Lucas Pinckney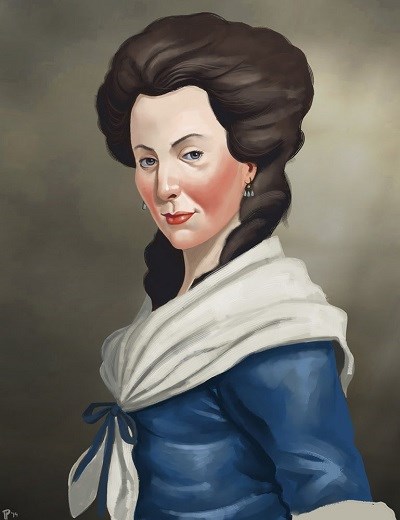 Historians often credit Eliza Lucas Pinckney (1722-1793) with the development of the successful indigo industry in the mid-1700s in South Carolina. Her unique situation as the manager of her father's lands helped carve her name into the history of South Carolina.

Born in Antigua, Eliza Lucas was the eldest daughter of George Lucas, lieutenant governor of the island. She was raised on a Caribbean plantation. At a young age she was skilled in botany—a life passion of hers. She cherished her education saying "education which esteems a more valuable fortune than any could have given, will make me happy through my future life." Under her father's request, Eliza along with her sister Polly and mother were sent to South Carolina when she was only sixteen. There the Lucases owned three Lowcountry plantations.

It was at their Wappoo Plantation, located about 3 miles southwest of Charleston that Eliza chose to take residency. Keenly aware that rice was the only major cash crop of the region, she was determined to increase the wealth of the Lowcountry. When she was nineteen, she wrote that she had planted a large fig orchard "with design to dry and export them." She experimented with various schemes to make the plantations more profitable. She wrote to her friend Mary Bartlett: "I am making a large plantation of oaks, which I took upon as my own property, whether my father gives me the land or not." She believed the oaks would be "more valuable than they are now—which you know they will be when we come to build fleets."

While Eliza spent the majority of her time on her plantations, the summer months and swampy environment brought mosquitos to the land. During these months it was customary that planters of Eliza's status would socialize in Charleston—removing themselves from the unsavory conditions of the plantations. She preferred her Wappoo residence. However, she could be found visiting the home of Charles and Eliza Lamb Pinckney on occasion. The Pinckneys acted as guardians and friends to Eliza while her father remained in Antigua.

Her relationship with the Pinckneys was quite close. Charles Pinckney, in particular, was very skeptical of Eliza's interest in planting. He wrote "Tell the little visionary come to town and partake of some of the amusements suitable to her time of life." To which she responded "Pray tell him…what he may now think whims and projects may turn out well by and by. Out of many surely one may hit." And one did—Indigo.

Eliza's experiments with indigo were ridiculed by her neighbors. They had known that the tropical plant did not do well in the winter months. Years of persistence paid off, however, when in 1744, she was able to grow enough indigo to begin the process of dye production. Under the guidance of a Frenchman from Monserrat, sent by her father, Eliza was able to send a small sample of the indigo dye to Great Britain. She saw success. However, the same year brought her devastating news. Her father wanted the family to return to Antigua. Her dear friend Eliza Lamb Pinckney died shortly afterwards.

Having been widowed, Charles Pinckney proposed to the young Eliza. He was forty-five, and she was twenty-two. The marriage saved her from returning to her father's home. Prior to their marriage, Charles Pinckney fathered no children. Eliza mothered four children. Her first son Charles Cotesworth was born in 1746. Their second child, George Lucas, was born in 1747 but passed away soon after. Then her only daughter Harriott was born in 1749. And finally the youngest son, Thomas, was born in 1750. Motherhood was an exciting new experiment that Eliza took on happily.

Eliza's family along with her production was growing. She was able to send a substantial export of indigo to England. England responded by issuing a bounty to Carolina planters in an effort to cut out the French from dominating the market.
"In addition to economic motives, indigo production also succeeded because it fit within the existing agricultural economy. The crop could be grown on land not suited for rice and tended by slaves, so planters and farmers already committed to plantation agriculture did not have to reconfigure their land and labor. In 1747, 138,300 pounds of dye, worth £16,803 sterling, were exported to England. The amount and value of indigo exports increased in subsequent years, peaking in 1775 with a total of 1,122,200 pounds, valued at £242,295 sterling. England received almost all Carolina indigo exports, although by the 1760s a small percentage was being shipped to northern colonies."
By the beginning of the American Revolution, indigo made up one third of the exports from South Carolina. In less than fifty years, the market had grown substantially. However, the tension with the British and the establishment of the East India Trading Company led to the diminishing of the Carolina indigo trade.

Today, indigo is an important symbol in South Carolina. It is the state's official color and is seen on the state's flag. Eliza Lucas Pinckney had an impact on South Carolina that is lasting. In 1989, Eliza was the first woman inducted into the South Carolina Business Hall of Fame, for her contributions to South Carolina's agriculture.

References

Eliza Lucas Pinckney. (2017, April 02). Retrieved March 13, 2018, from http://www.womenhistoryblog.com/2008/09/eliza-lucas-pinckney.html

Jelatis, Virginia. (2016, October 12). Indigo "South Carolina Encyclopedia". Retrieved March 13, 2018, from http://www.scencyclopedia.org/sce/entries/indigo/

Martin, Eliza Layne. "Eliza Lucas Pinckney: Indigo in the Atlantic World By Eliza Layne Martin (Ph. D. Candidate in History, UC Santa Cruz)."

Pinckney, E. L., Pinckney, E., & Zahniser, M. R. (1997). The letterbook of Eliza Lucas Pinckney. Columbia, SC: University of South Carolina Press.

Roberts, C. (2005). Founding mothers: the women who raised our nation. New York: Perennial.
Last updated: March 1, 2021