Diving and Snorkeling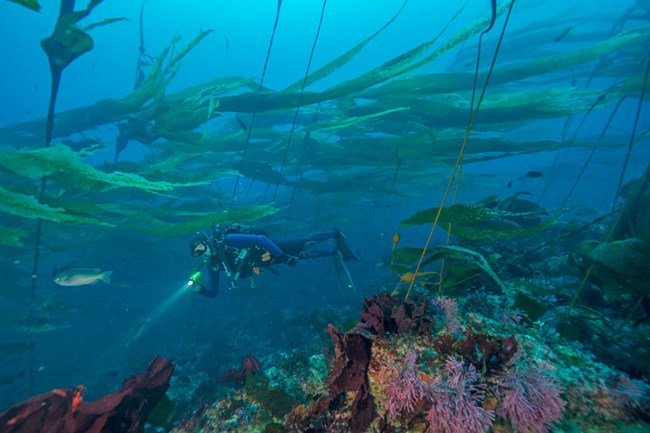 The kelp forests, sea caves, and coves of the park await the adventurous swimmer, snorkeler, and diver. Some of the best snorkeling and diving in the world can be done right here within the park.
These activities are best done on Santa Barbara, Anacapa, and eastern Santa Cruz Islands. Due to extremely windy conditions on Santa Rosa and San Miguel, these activities should not be attempted on these islands by the novice or anyone who is not properly trained, conditioned, and equipped.
For more information about specific swimming, snorkeling, and diving locations, please visit:
Santa Cruz Island Things To Do
Santa Rosa Island Things To Do
San Miguel Island Things To Do
Santa Barbara Island Things To Do
Also, please refer to local area dive shops, dive operations, and diving publications for more detailed information on island snorkeling and diving sites and dive boat trips.

Channel Islands Adventure Company, the authorized kayak guide and outfitting concession in the Scorpion Anchorage area, operates snorkel equipment rentals, and guided snorkel tours at Scorpion Anchorage on Santa Cruz Island only.

Since the marine environment can be unforgiving, use extra caution when engaging in these activities. Ocean conditions are highly variable and sometimes dangerous. Many beaches on the islands have steep, dangerous shore breaks. The wind and swell generally come from the northwest and become stronger as the day continues. From October through January, visitors must also be prepared for strong east or Santa Ana winds. The ocean currents outside of coves and protected beach areas can be strong and extremely dangerous. These conditions should be carefully considered when planning your trip and entering the water.
In addition to the regulations and guidelines listed at Laws and Policies, the following suggestions should also be considered:
There are no lifeguards on duty, so all water sports are at your own risk. Visitors should be aware of boat landing operations at all times-avoid water sports near skiffs that are conducting surf landings.
Snorkelers, divers, and swimmers should always use the buddy system. This allows for someone to go for help if you encounter trouble.
For your own safety, the law requires divers to display a dive flag while diving. It is recommended that spear guns be unloaded at least 50 feet from the beach.
Before departing, swimmers, snorkelers and divers should leave an itinerary and/or float plan with someone who is on shore and can be easily contacted.
Sea caves can be very dangerous-large waves or swells can fill a cave unexpectedly. Be extremely careful and wear a helmet at all times when exploring sea caves.
Due to cold water conditions (55° to 70° F), wetsuits and hoods are recommended.


Last updated: September 22, 2017