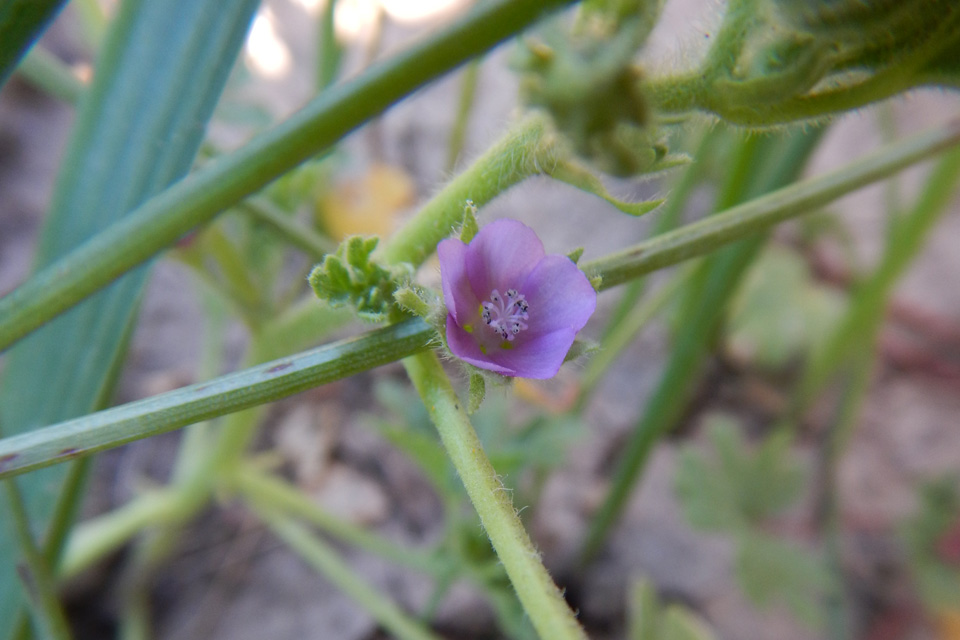 News Release Date:
March 20, 2017
Contact: Yvonne Menard, 805-658-5725
Spring is in full bloom at the Channel Islands with coreopsis stands bursting into yellow blossoms among a complimentary palette of white island morning glory, purple blue dicks, and orange island poppy plants.  
On Santa Barbara Island field biologists recently discovered a new flowering plant not previously known to have existed there. The small and delicate white mallow, or 
Eremalche exilis, 
likely sprouted due to the prolific rain this year. Prior to this discovery, the only known occurrences of white mallow were on Santa Cruz Island in 1888 and Santa Catalina Island in 1902.  
The mallow, a relative of hibiscus, has tiny, delicate white or pale purple flowers that are easy to miss. Biologists identified it in five different dispersed locations on the island, mostly in disturbed grassland areas, during their annual plant surveys.  
They believe the seeds were dormant in the soil, waiting to sprout in response to some unknown triggers, possibly the timing or quantity of the rains or the level and intensity of sunlight. Mallow is from a desert plant family known to have seeds that lie dormant for long periods, sometimes for decades, before breaking the soil surface and springing to life.  
Overall, it is a fantastic year to view wildflowers on the islands. They are green and lush with vegetation, in stark contrast to the past four drought years. Seabirds, including western gulls and California brown pelicans, are setting up or tending nests, with some displaying their showy breeding plumage.  
An additional reason to plan a visit to the park this year is to whale watch in the waters surrounding the islands. Just this past week, sightings in the Santa Barbara Channel included approximately 100 gray whales on their northbound migration, 15 humpback whales, including some breeching off of Anacapa Island, and thousands of common dolphins.  
About Santa Barbara Island
Santa Barbara Island is the smallest and one of the least visited islands within Channel Islands National Park. It is located over 50 miles from Ventura and about 24 miles from neighboring Catalina Island. The island is closed due to significant damages to the landing dock caused by high surf last year.