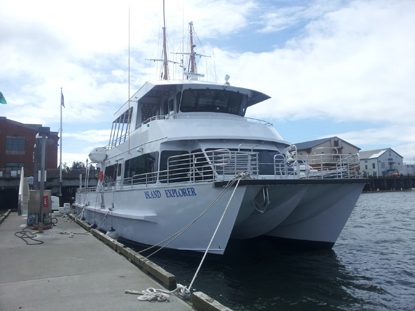 News Release Date:
April 24, 2013
Contact: Yvonne Menard, 805-658-5725
Island Packers, the official concessioner for Channel Islands National Park, celebrates 45 years in business with the christening of their new 64-foot catamaran next Tuesday, April 30, 2013, at 5:30 pm in Ventura Harbor. 
The new catamaran, appropriately named Island Explorer, was built by All American Marine in Bellingham, WA. It joins the Island Packers' fleet of two catamarans, the Islander and Island Adventure, and a single-hulled vessel, the Vanguard. 
Island Packers is owned and operated by the Connally family. Founded 45 years ago by family patriarch, Bill Connally, Island Packers continues to fulfill his vision of sharing the wonders of the Channel Islands by providing excursions to the remote offshore islands. Their first vessel, a World War II vintage converted navy launch, was christened the Island Packer in 1968. 
Some of their early island excursions included a Polynesian village-style dive camp at Albert's Anchorage on Santa Cruz Island and weekend outings to Anacapa Island that cost only $7.50 per person. 
Today Island Packers offers a multitude of experiences to all five national park islands through half-day whale watch trips, all-day island excursions, and multi-day, multi-island trips. Vessels depart from Ventura and Channel Islands Harbors and take people to the islands to enjoy activities including hiking, camping, kayaking, and whale watching. 
Last year, approximately 70,000 visitors enjoyed excursions with Island Packers, making this local company an important contributor to the Ventura County tourism economy. Notably, since 1995 Island Packers has served nearly one million visitors on over 26,000 trips to the Channel Islands and surrounding waters. 
"Since its inception Island Packers has been a family tradition," said Channel Islands National Park Superintendent Russell Galipeau. "For 45 years they have been consistently committed, through challenging weather conditions and rough economic times, to connect people to the significant resources found on our Channel Islands."