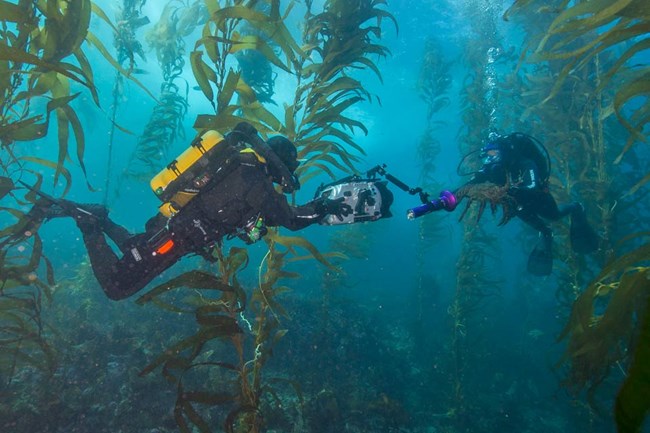 Is there a fee to participate in Channel Islands Live?
No. Channel Islands Live is a FREE service provided by the National Park Service.


What equipment do I need?
A computer, tablet, or phone with either a built-in or external USB microphone and camera is required.TV, LCD projector, or Smart Board is also required. External speakers (unless using a TV) are preferred so it is loud enough for everyone to hear clearly.You may also connect via a standards-based videoconferencing machine such as Cisco™Telepresence, Polycom™, Tandberg™, LifeSize, or similar equipment.


How do I sign up for a program?
Programs are available for interactive participation at your location and at the park visitor center in Ventura, California. Visit Schedule a Program for detailed information.


Does my school have to be on the K-12 High Speed Network (HSN) to participate?
No. While it is possible to participate in our program without a connection to the HSN, we highly recommend that your classroom be connected to the HSN if you want to participate in these programs. The recommended bandwidth needed to support the broadcast is at least 384Kbps so a high speed network connection is necessary.


How does Channel Islands Live work?
Once you have tested and signed up for a program, we are only just a click away. Visit Preparing for the Program and Day of Program Instructions for detailed information.


Who is the target audience?
While all of California's and the nation's public school students are the objective of this program, Channel Islands Live directly at those children that traditionally have been underserved by the national parks. The primary focus of the program is the urban, economically disadvantaged, and ethnically diverse students that have experienced geographic and social barriers to participate in state park programs.


Why is Channel Islands Live important?
Channel Islands Live helps teach academic content standards to students in a very effective and compelling manner while providing access to the resources of Channel Islands National Park that would be otherwise unavailable to many students. Channel Islands Live aids the students' education and protects our parks by increasing knowledge and appreciation of their valuable resources.


How can I get started?
Follow the steps described in Schedule a Program.