Ranger-guided Programs

Ranger-led programs are available at various times throughout the year at Faraway Ranch, Bonita Canyon Campground, and at other popular desinations at Chiricahua National Monument. This is a great way for visitors of all ages to learn more about the cultural and natural history of the park from a ranger or knowledgable park volunteer.
While ranger programs may be available year-round, there are generally more programs offered in the spring months.
See the park event calendar to see what programs are available.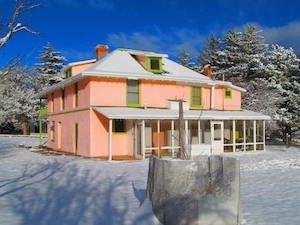 Currently, Faraway Ranch is undergoing extensive renovation. No tours are being offered at this time.

Tours are subject to cancellation without notice. Call us at (520) 824-3560 or email us with any questions.
Take a step back in time by visiting the guest ranch of the Erickson family who campaigned to establish Chiricahua National Monument. Meet at the benches by the house for the 45-minute program.
Groups
Do you have a group of 10 or more people who would like a ranger-led program or guided hike? Contact the visitor center in advance to schedule a program at 520-824-3560 x9302
Last updated: September 28, 2022