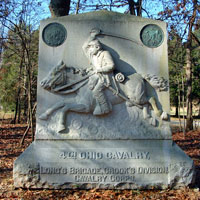 In recommending creation of the park, both House and Senate military affairs committees pointed out that probably no other field in the world presented more formidable natural obstacles to large scale military operations than the slopes of Lookout Mountain and Missionary Ridge. Since the purpose would be to maintain the park in its historic condition, they also noted that there had been scarcely any changes in the roads, fields, forests, and houses at Chickamauga since the battle, except in the growth of underbrush and timber, which could easily be removed. Taken together, these battlefields offered unparalleled opportunities for historical and professional military study of the operations of two great armies as they both encountered the multiple military obstacles created by forests, steep mountains, open fields, and streams. From strategically placed observation towers placed on the Chickamauga Battlefield, Missionary Ridge, and Lookout Mountain, observers and students could comprehend the grand campaign that extended over a 150 mile front and follow many tactical details of the actual battle. No battlefield park of this quality and magnitude could be found in any other location in the world.
Chickamauga and Chattanooga National Military Park was officially dedicated on September 18-20, 1895. Most of the 1,400 monuments and historical markers on the battlefields were planned and placed by Boynton and other veterans of the battles, under the supervision of the War Department, which administered all national military parks until they were transferred to the National Park Service in 1933.
Efforts continue today to protect and preserve the park's many cultural and natural features while providing an inspiring experience for visitors.
We look forward to your visit.