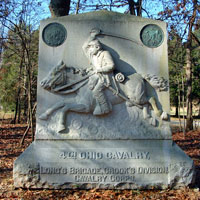 Chickamauga and Chattanooga National Military Park was established in 1890 - the first of our national military parks. The park was officially dedicated on September 18-20, 1895, the 32nd anniversary of the Battle of Chickamauga. Most of the 1,400 monuments and historical markers on the battlefields were planned and placed by veterans of the battles, under the supervision of the US War Department, which administered all national military parks until they were transferred to the National Park Service in 1933.
Today, efforts continue to protect and preserve the park's many cultural and natural features while providing an inspiring experience for visitors.
We look forward to your visit. Before you arrive, take a few moments to explore the website, where you can find basic information about hours and fees, directions and maps, things to do, information about safety and accessibility, as well a calendar of events and tours.