Chickamauga and Chattanooga National Military Park is Modifying Operations to Implement Latest Health Guidance
Chickamauga and Chattanooga National Military Park is announcing modifications to operations to implement the latest guidance from the White House, Centers for Disease Control & Prevention (CDC), and local and state authorities to promote social distancing.
As of March 24, 2020, the following facilities and areas are temporarily closed until further notice:
Chickamauga Battlefield
Chickamauga Battlefield Visitor Center
Wilder Brigade Monument (Tower)
All Secondary Roads
Vault Toilets
America's National Parks Bookstore
Lookout Mountain Battlefield
Point Park
Ochs Museum
Lookout Mountain Battlefield Visitor Center (including parking lot)
Sunset Rock Parking Lot
Cravens House Parking Lot
America's National Parks Bookstore
Other Park Areas
Signal Point Parking Lot
Signal Point Restrooms
Bragg Reservation Parking Lot
Where it is possible to adhere to the latest health guidance, the remainder of the park is open, including:
Chickamauga Battlefield trails
Lookout Mountain Battlefield trails
Moccasin Bend National Archeological District trails
Missionary Ridge Reservations
Orchard Knob
Tour Stop 1 Gravel Parking Lot
Upper and Lower Parking Lots at Chickamauga Battlefield Visitor Center
** Be sure to park in designated areas to cut down on congestion on LaFayette Road. Also, with the horse trailer area inaccessible, riders will need to access the red and white horse trails by parking in Chickamauga Battlefield's lower lot and unloading to access the Red trail below the parking lot. The other option is to ride in from outside the park via one of the Blue "neighbor" trails.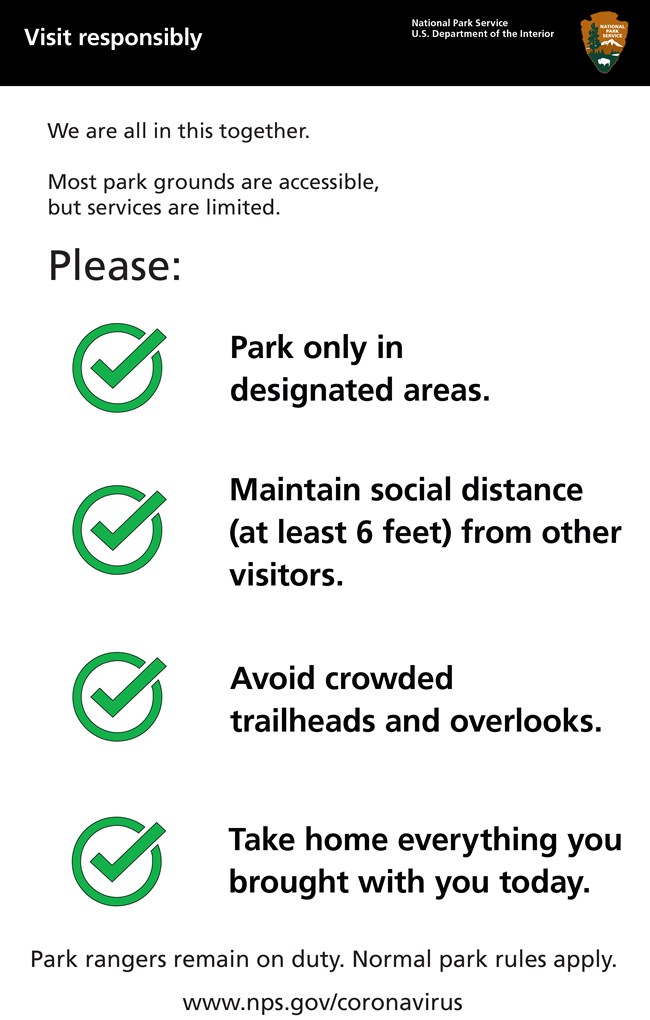 As the park itself remains open, visitors are asked to follow park regulations and CDC social distancing guidelines to gather in groups smaller than 10, maintain a six foot distance for one another, and practice Leave No Trace principles to pack out any and all trash in order to keep the park clean.

Park rangers will continue to patrol the park to protect the safety of visitors and the protection of park resources.
Last updated: March 27, 2020