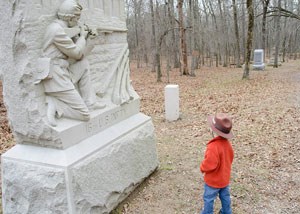 The Junior Ranger program has been in use throughout the National Park System for more than two decades. Most of the 417 National Park Service units across America offer the program, and Chickamauga and Chattanooga National Military Park is one of them. Each park has its own Junior Ranger programs, with a variety of activities in each.
Chickamauga and Chattanooga National Military Park has two different Junior Ranger Books. One for younger children, 2nd grade and younger, and one for people in 3rd grade or older. You can get a copy of the Junior Ranger book at either the Chickamauga Battlefield Visitor Center or the Lookout Mountain Battlefield Visitor Center.
In order to complete the Junior Ranger program here, you'll need to visit both Chickamauga Battlefield and Point Park at the Lookout Mountain Battlefield. So plan on several hours to complete your book.
Periodically, the park hosts special youth events where kids can earn their Junior Ranger badge through special hands-on programs.