The Fuller Gun Collection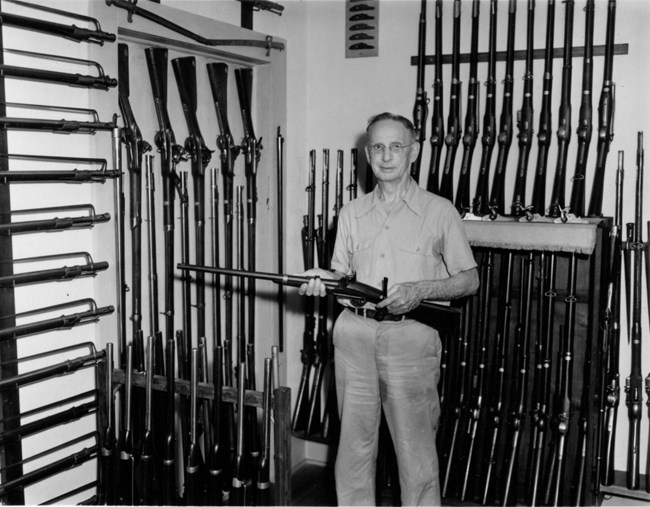 Do you remember as a child getting your first bottle cap or baseball card and how it made you want to collect more? Claud Fuller's impressive collection of firearms began the same way in a Kansas hardware store. A single quarter bought him a small pistol and two boxes of cartridges. The mechanics of the pistol fascinated him so much it led him into a career as an engineer and grew into a lifelong passion for collecting firearms.
But Fuller's career and hobby did not come easily. He dropped out of school at age 12 and went to work in a Kansas City flour mill. His fascination with the way things work continued, as he later found a job as an engineer in the brick-making business.
Armed with only a 7
th
grade education, Fuller's career as an engineer blossomed to produce an incredible 48 patents for brick-making processes and machinery. But firearms remained his passionate hobby. By 1923, after thirty-seven years of collecting, the growing collection included over 2,000 items.
Fuller was not alone as his career and hobby developed. Since long hours at the office often kept Fuller from travelling to gun sales, his wife Zenada haunted auctions and estate sales alone to purchase rare guns, often mixing in purchases of quilts and other nick-knacks to hide her pursuit of the weapons. In addition, she taught herself typing and stenography to help Fuller publish several books on firearms.
In 1933, Fuller retired and he and Zenada moved to a 50-acre farm east of Chattanooga, Tennessee which they called Fulleridge. At Fulleridge, the Fuller gun collection became famous, featured in numerous newspaper and magazine articles with an average of 5,000 people per year visiting.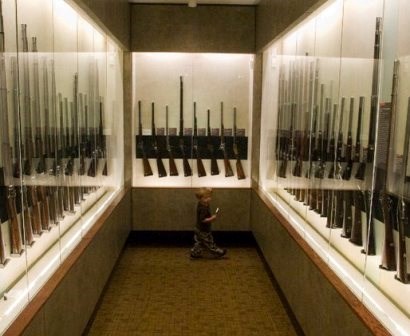 In 1949, the Fullers decided something more needed to be done to display the collection. They offered a portion to Chickamauga and Chattanooga National Military Park, stipulating the collection always remained in the park to be studied and admired by the visiting public.
Sadly, Zenada passed away during the donation process. Fuller dove into the display, working with park staff to organize and install the weapons in a newly constructed museum wing. It was unveiled in a special ceremony on July 4, 1954, a fitting day since many of the weapons may have been used to secure the very freedoms being celebrated.
Fuller continued to visit the park and his collection, never failing to share some new tidbit of knowledge with park staff and visitors. He died in 1957 after 80 years of sharing his passion for technology and mechanics with thousands of people, both in person and in writing.
Though Claud and Zenada Fuller are no longer here to share personal stories of their magnificent collection, it lives on at Chickamauga and Chattanooga National Military Park. Perhaps as you tour this timeline of technology and mechanical development, that maybe you will find that the Fullers' fascination and passion lives on in you, the park visitor. Today the Fuller Gun Collection is on display at the
Chickamauga Battlefield
Visitor Center.
Last updated: April 23, 2017