Safety
For Non-Emergency Law Enforcement Assistance
A non-emergency is an event that does not pose a direct threat to the health and safety of you and others people. Examples of when to call the non-emergency line are when you see a property crime (car break-ins, vandalism) suspicious activity or a threat to the park's resources (digging, metal detecting).
770-992-6585
For Emergencies
An emergency is an event which represents a direct threat to the health and safety of visitors or employees. Example of when to dial 911 are for missing person, fire, physical altercation, or injury.
DIAL 911
Water Safety
Floating or swimming in the Chattahoochee River puts you in an environment that is totally different than the environment that we live in everyday. Therefore special caution needs to be taken by every visitor while on or in the river.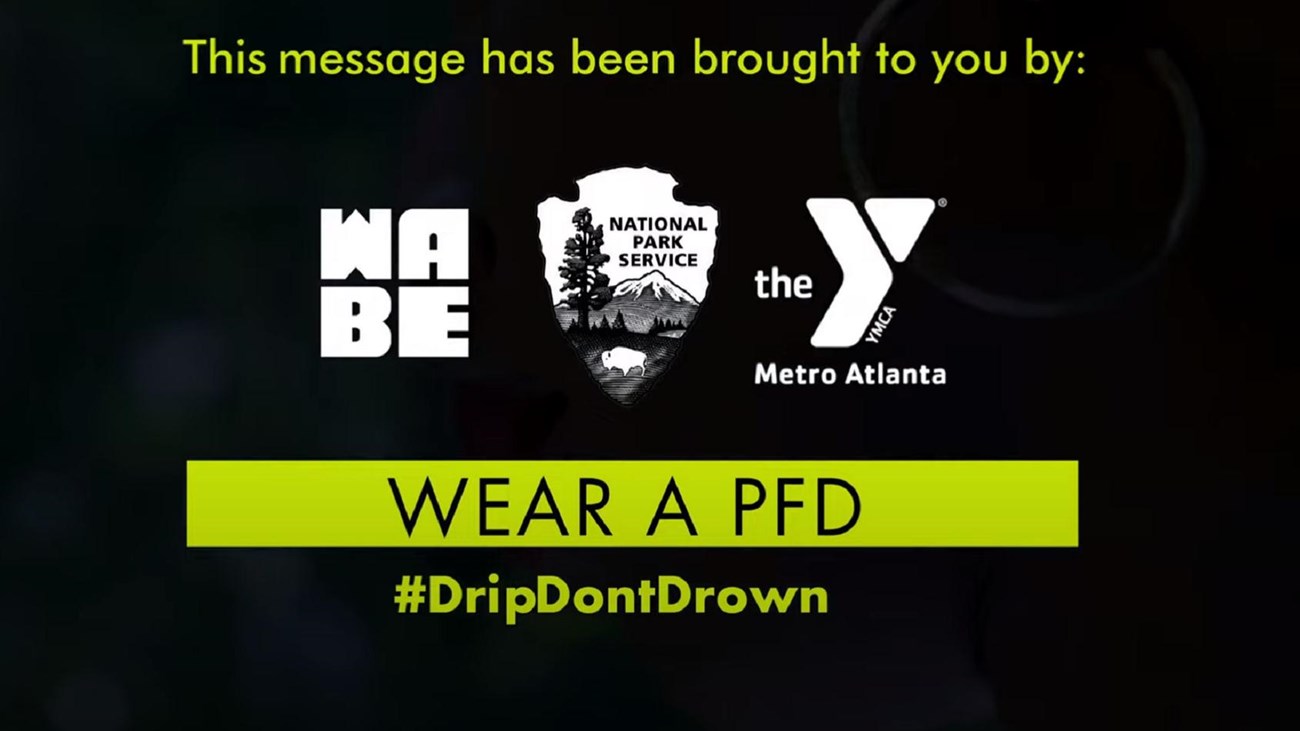 Watch a Video
Thinking of shooting the Hooch or trying the Diving Rock? A mother shares advice from her heartbreaking experience.
Personal Flotation Device (PFD)
A U.S. Coast Guard approved Personal Flotation Device (PFD) is Required To Be Worn if you are boating, tube floating, or wading in river areas between
Buford Dam and the GA 20 highway bridge and
Morgan Falls Dam and the Morgan Falls boat ramp.
On all other river sections in the park, you must have a wearable, appropriately sized; U.S. Coast Guard approved PFD on board all watercraft, including float tubes and air mattresses for each person. All children under the age of 13 MUST WEAR a U.S. Coast Guard approved PFD when a watercraft is underway.
Hypothermia
Water released from Buford Dam comes from the bottom of Lake Sidney Lanier and is approximately 50 degrees Fahrenheit. This cold water is great for trout, but dangerous for you. If you fall into this cold water, get out quickly and warm yourself. Hypothermia can occur even in the warmest summer months.
Beware of Hypothermia which is the severe lowering of the body's temperature. When exposed to these low temperatures, exhaustion or unconsciousness can occur in less than 30 minutes. This occurs because blood is pulled from the arms and legs to protect the internal organs. Deprived on oxygen, the muscles in the arms and legs can no longer swim or tread water. The person is out of breath, unable to keep their head above water, and silently sinks.
Drownings are a silent death.
Diving
Never dive or jump in the river. There are dangers in the form of submerged rocks, murky water, strong currents, and fluctuating water levels that can cause serious injury. Remember if you do get injured while in the park it may take several hours before you get help!
Water Quality
The river has a reputation for less than healthy water quality. Although the water quality of the river has improved it still has its bad days. Take a quick look and you can understand why. When visitors see trash floating down the river and piling up behind a log jam they become concerned about the beauty lost. But when their nose catches some of the aromas along the river they really become concerned. Just what's in the water that can't seen? Visit the BacteriAlert website to find out how safe is it to swim, wade, and boat in the Chattahoochee River today.
Water Release Schedules
Water conditions on the Chattahoochee River are influenced on a daily basis by water releases from Buford Dam and Morgan Falls Dam. For the Buford Dam water release schedule call 770-945-1466, or toll free 1-855-DAM-FLOW (1-855-326-3569), or visit their Hydropower Generating Schedule website. For the Morgan Falls Dam water release schedule visit Georgia Power's Chattahoochee Hydro Real-Time Operations website. Besides showing the time for scheduled releases it also shows how many turbines will be operating and the current flow in cubic feet per second (cfs)
River Flow Rates
Before you jump in your boat or tube check the River Flow Rate and you'll learn what to expect. Here you will be able to get answers to the following questions. How fast, or slow, will the ride be to your take out point? Will I be hitting the rocks in the shoals? And most importantly how safe is it to be on the river today? If you're planning to be on the river today then check out the River Flow Rate!
Flooding
The water level in the river is influenced not only by water releases from the dams but also precipitation in the watershed. Current water levels for the following locations are available online from the National Weather Service.
Water level forecasts for the Chattahoochee River at Medlock Bridge and Roswell are issued as needed during times of high water, but are not routinely available. Forecasts take into account past precipitation and the precipitation amounts expected approximately 48 hours into the future from the forecast issuance time. Besides the recent water levels the pages provide historical information and descriptions for different flood stages.
Loading weather forecast...
Drinking Water
Bring fresh drinking water and non-perishable food or snacks when visiting the park. Drink and eat periodically to avoid dehydration and keep your energy levels high. DO NOT drink water from the river as harmful levels of bacteria may be present!
Lost
Know where you plan to visit while in the park and let others know your plans.
While on the river remember that Paces Mill is the last take-out in the park. It is located a short distance downstream from the I-75 Highway underpass on the west side of the river.
While hiking it's a good idea to carry a paper map and compass with you and learn how to use them. Your cell phone may not have service in some areas and if the battery dies it may be totally worthless.
Insects
The Zika virus is a viral disease transmitted to people by infected mosquitoes (Aedes species, a non-native species introduced by humans). Visit the National Park Service Zika Virus page to learn about the virus and how it impacts our visitors.
Last updated: September 8, 2022