Chattahoochee Cycling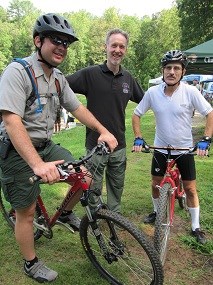 Cycling is a popular form of recreation in and around the park. All park roads are open to cyclists, but trails are limited to specific areas.
Currently there are 7.11 miles of trails open to cyclists in the park, all within the Cochran Shoals and Palisades units. When combined with surrounding roads, there are options for cyclists of varying ability. All of the trails open to bikes are also shared with pedestrian users, and as such it is important to follow trail etiquette.
The way you ride today shapes bike trail access tomorrow. Do your part to preserve and enhance the sport's access and image by observing the following Rules of the Trail, formulated by the International Mountain Bicycling Association (IMBA). These rules are recognized around the world as the standard code of conduct for mountain bikers.
Last updated: February 3, 2021