Floating the Chattahoochee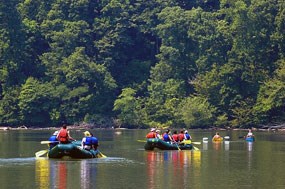 The 48 miles of the Chattahoochee River National Recreation Area is available for raft, canoe, kayak, motor boat and other small boat use year round. Jet skis are not permitted at any time. The river within the park is open for boating from 30 minutes before sunrise until 30 minutes after sunset. Night boating is not permitted in the park.
The river offers excellent opportunities for leisurely paddling a raft, canoe or kayak to observe wildlife and wildflowers, do some fishing, or simple relaxing recreation.
When Buford Dam is not releasing water, the river is calm flat water with an occasional class I/II shoals or rapids. Currents can be strong around submerged rocks and jagged tree snags. Rubber-soled shoes are a must for tackling slippery rocks and the occasional broken glass bottle.
The river is accessible by boat between Buford Dam and Morgan Falls Dam at Bowmans Island, Settles Bridge, McGinnis Ferry, Abbotts Bridge, Medlock Bridge, Jones Bridge, Garrard Landing, Island Ford, Don White Park, Azalea Park, and Overlook Park. South of Morgan Falls Dam the river is accessible by boat at Morgan Falls Park, Johnson Ferry, Powers Island and Paces Mill.
Even if you don't have your own boat to use, there is equipment available for rental. The Chattahoochee River National Recreation Area does not rent boats, however there are several authorized outfitters that rent canoes, kayaks, rafts, and tubes for day use on the river. All outfitters are required to provide paddles and Personal Flotation Devices (PFD) with all rentals.
Last updated: February 28, 2017