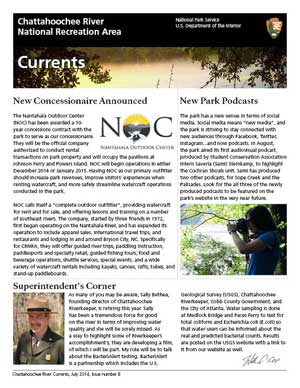 What's the Best Way to Stay Connected?
Chattahoochee River National Recreation Area provides several different ways for you to stay connected to what's happening in the park. These options allow for maximum efficiency and allow you to choose how you want to be informed, and how often you want to be informed. The park occasionally issues News Releases concerning events, closures, park improvements, and other information that we want to get out to the press. Subscribe

to our RSS News Feed (What is RSS) to receive our News Releases directly to your browser as we add them to our website. Follow @chattahoocheenp Twitter and receive tweets about what's happening "right now." "Like" CRNRA on Facebook and get exciting content and current happenings that extend beyond formal News Releases. And for a quarterly compilation of park news see our Park Newspaper page for current and archived editions of the park's e-newsletter, Currents.