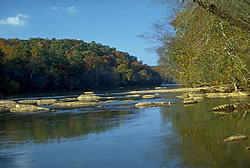 Chattahoochee River National Recreation Area (CRNRA) is rich in natural and human history, each influenced by the river's pervasive force. Usually clear, cold, and slow moving, the river sometimes plunges as a muddy torrent through its rockbound shoals. For centuries people have been drawn to the river for a source of water, food, and transportation, and in more recent times for power to sustain the mills, factories, and homes built along its banks.
Wild plants and animals, native to the area, are abundant in the park. Visit the park often to see the ever changing show that the plant life found in the park has to offer. Some animals you will see every time you visit and some, like the playful river otter, will delight you with a rare appearance.
We hope these pages will entice you into visiting the park!