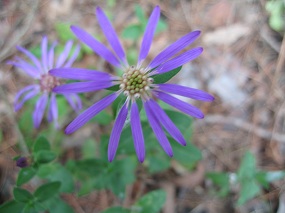 The Georgia Aster, Symphotrichum georgianum is a federal candidate for the threatened and endangered species list under the Endangered Species Act of 1973. Learn more about its candidacy at the US Fish and Wildlife Service's species profile page.
A relict of the upland-oak hickory-pine forests, it thrives when exposed to natural disturbances such as fire or grazing. It is, however, vulnerable to human intervention, including pulling, mowing, exposure to herbicide, and suppression of fires.
The Georgia aster is suffering in the wild due to its small, isolated populations and having its natural environment disturbed by humans. The park provides refugia for the species from development, road-widening projects, and conventional landscape practices that are displacing and isolating the few populations left in this area. Look for a population of transplanted Georgia asters in the garden right in front of our headquarters at Island Ford. The best time to see them is when they are blooming in October and November.