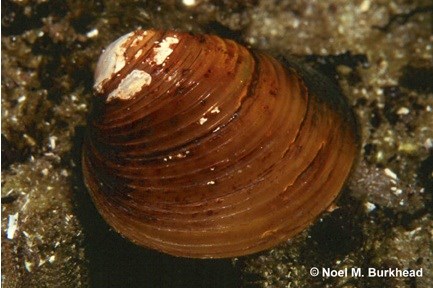 The Asian Clam, Corbicula fluminea, native to Asia and parts of Africa, was first discovered in the United States in 1924 and has been spreading rapidly since then. It is now found in 38 states and Washington, DC, and is known mostly for being a biofouler of complex pipe structures in power plants and industrial water systems. High concentrations of the Asian Clam can lead to green algae blooms as a result of their waste.
This mollusk is capable of self-fertilizing. When they mature they begin producing eggs and then immediately being producing sperm. Later in life they produce eggs and sperm simultaneously, releasing up to 2,000 juveniles per day. Because they can reproduce at such a prolific rate, they contribute to the decline of native mollusks.
In the aquarium and koi pond trade, these are sometimes known as the golden clam or golden freshwater clam. It is important to never dump aquariums into bodies of water to prevent the introduction of nonindigenous species, both plants and animals.