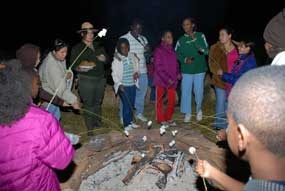 The evening entertainment was a delight to all…a musician and storyteller who combined stories from years ago with more contemporary "scary stories". Students got to participate in a storytelling workshop, which was performed in front of the audience, and had an opportunity to try their hand at various "old-time" instruments (such as spoons, washboard, limerick, and other rhythm instruments). Night sky viewing was an optional late-night activity and viewers were awed by the sight of Jupiter.
The next morning, participants had a hot breakfast which had been cooked in Dutch ovens on-site. A Leave No Trace program was provided, followed by station rotations to give kids "hands-on" experiences with butter churning, washing clothes on a washboard, plowing, sack races, and a nature walk.
The program was a huge success. The campers had a fun time, and learned some valuable lessons along the way. In total, there were 55 participants (student campers and their chaperone, and Brumby Elementary school staff), 10 NPS staff members, 3 Cobb County staff members, and 12 volunteers who assisted during the overnight camping experience. All food items were generously donated by Harry's/Whole Foods Market.
The students kept journals of their camping experience. Below is a collection of their entries.