During the midsummer heat, as the buzzing of insects was drowning out the incessant drone of cars on Johnson Ferry Road, CRNRA received a phone call from Colonial Pipeline regarding the wetland located at the closed parking lot at Johnson Ferry South.   If you haven't been out there lately, the flooding of 2009 created an amazing wetland. In 2 years' time this area has transformed from a dry, gravel wasteland of briars, overgrown fescue, and horseweed into a thriving wetland with beaver, herons, mergansers, and scores of frogs.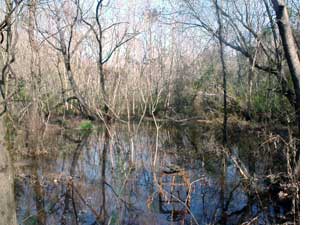 Colonial was concerned that the wetland waters were covering the control valve for the natural gas pipeline that runs underneath Johnson Ferry South and supplies the region with this valuable commodity. The water was three feet deep and, in the event of an emergency, would prevent ready access to the control valve. The issue couldn't be ignored without compromising the safety of the pipeline.
In order to reduce the water level in the wetland, existing canals were opened and a new one dug to drain the water covering the valve; the wetland didn't have to be dry, just shallow enough for the flat orange top to be observed from a surveillance plane and to enable an operator to walk to it.
SRM has been monitoring the water quality just downstream for the past 3 years so we knew that there was an old shut-off valve for an abandoned farm pond just below this site. So with help from Colonial, we plugged it, and allowed this area to receive most of the water drained from the upper site.  Voila! A new wetland complex was born.