Directions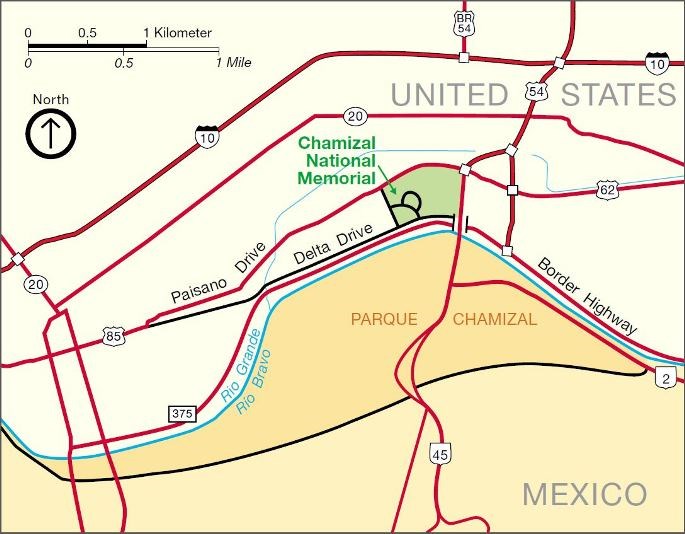 Chamizal National Memorial is located along Paisano Drive near major east-west roadways I-10 and Loop 375 (Border Highway) as well as north-south US-54. The park is situated on the US-Mexico border, and some of the routes that lead to the park may also lead into Mexico. Please use navigational aids and read road signs carefully.
See a map of the park.
Alternative Fuel
Do you plan to travel to the park in an alternative fuel vehicle? That's great! Plan your trip with the Alternative Fueling Station Locator from the Department of Energy. Search on zip code 79905.
Parking
After driving into the park, follow the one-way paved road around the outdoor stage area to the large paved parking area located in front of the administrative building. The memorial's main parking area offers lighted and secured parking for 162 vehicles, with an additional 5 spaces for accessible parking. A paved lot on the south side of the park offers additional parking near the comfort station and adjoining picnic areas. The area behind the outdoor stage is not open for public parking. Overnight parking is not permitted, and any vehicles remaining as the memorial closes will be towed. Parking a vehicle in the memorial parking lot in order to walk across the bridge to Juarez is not permitted.
Public Transit
The Sun Metro, El Paso's public transit system, has a stop on the corner of Paisano Drive and South San Marcial Street. This is at the northwest corner of the memorial and convenient walking distance to park facilities. Visit Sun Metro's website for more information about how to use the public transit system.


Last updated: January 6, 2022