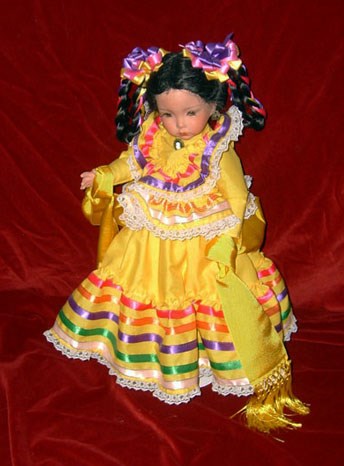 Capital: Guadalajara
This brilliant purple costume – a Victorian influenced blouse with a ribbon-trimmed flounce at collar and waist, and a full skirt, circled by a rainbow of ribbons and edged in lace – cries out for the swirling movement brought on by a chorus of the song titled for Jalisco's capital. Guadalajara is known as the birthplace of the Mariachi, the ensembles of Mexican musicians whose guitars, trumpets, violins, and voices turn any moment or event into a fiesta.
Guadalajara is one of the largest urban centers in all Mexico. Its rapid economic growth and industrialization have made the city a major influence in the western part of Mexico. In the 1980's, 30 blocks of downtown Guadalajara became the Centro Historico, an area of 16th century buildings connected by a series of spacious Spanish-style plazas.
In addition to its buzzing capital, the state of Jalisco is known for agriculture, tequila production, Mexico's largest lake, and cattle.
Corn's quick cultivation time and adaptability to varied terrain have made Jalisco one of Mexico's leading producers of the versatile grain. Sugar mills are also an important part of the state's economy.
Tequila is made from the agave azul or tequilana (a type of maguey) cultivated in the Los Altos region of Jalisco. The leaves are roasted and "bruised" or crushed to extract the juice which is the base of the world-famous liquor. Mezcal, made from American agave, is also produced in other regions.
Lake Chapala, on Jalisco's southeastern border with Michoacan, is the largest lake in Mexico. Fed primarily by the Rio Lerma, the lake is in environmental crisis due to both industrial pollutants and decreased flow from the river.
Jalisco is one of Mexico's main producers of cattle, as well as dairy and aviculture products, and honey.
Jalisco's handicrafts, known throughout Mexico and internationally, include blown glass, ceramics, articles made from brass, wrought iron, papier maché, leatherwork ad embroidery – much of which is now done by machine. Other activities in Jalisco's economy include oil exploration in the southeast part of the state, and extensive fishing and mining in the Costa Sur region.
Did You Know…?
The name Jalisco comes from the Nahuatl words xali, meaning "sand", and ixco, which means "surface". Together, these words mean "sandy surface". The indigenous people depicted the word Jalisco with a drawing of a human eye resting upon a mound of sand.