Jalisco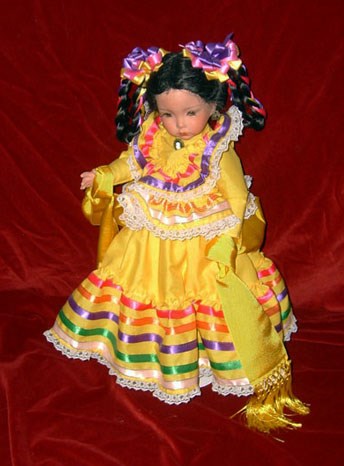 Capital: Guadalajara
This brilliant purple costume – a Victorian influenced blouse with a ribbon-trimmed flounce at collar and waist, and a full skirt, circled by a rainbow of ribbons and edged in lace – cries out for the swirling movement brought on by a chorus of the song titled for Jalisco's capital. Guadalajara is known as the birthplace of the Mariachi, the ensembles of Mexican musicians whose guitars, trumpets, violins, and voices turn any moment or event into a fiesta.
Guadalajara is one of the largest urban centers in all Mexico. Its rapid economic growth and industrialization have made the city a major influence in the western part of Mexico. In the 1980's, 30 blocks of downtown Guadalajara became the Centro Historico, an area of 16th century buildings connected by a series of spacious Spanish-style plazas.
In addition to its buzzing capital, the state of Jalisco is known for agriculture, tequila production, Mexico's largest lake, and cattle.
Corn's quick cultivation time and adaptability to varied terrain have made Jalisco one of Mexico's leading producers of the versatile grain. Sugar mills are also an important part of the state's economy.
Tequila is made from the agave azul or tequilana (a type of maguey) cultivated in the Los Altos region of Jalisco. The leaves are roasted and "bruised" or crushed to extract the juice which is the base of the world-famous liquor. Mezcal, made from American agave, is also produced in other regions.
Lake Chapala, on Jalisco's southeastern border with Michoacan, is the largest lake in Mexico. Fed primarily by the Rio Lerma, the lake is in environmental crisis due to both industrial pollutants and decreased flow from the river.
Jalisco is one of Mexico's main producers of cattle, as well as dairy and aviculture products, and honey.
Jalisco's handicrafts, known throughout Mexico and internationally, include blown glass, ceramics, articles made from brass, wrought iron, papier maché, leatherwork ad embroidery – much of which is now done by machine. Other activities in Jalisco's economy include oil exploration in the southeast part of the state, and extensive fishing and mining in the Costa Sur region.
Did You Know…?
The name Jalisco comes from the Nahuatl words xali, meaning "sand", and ixco, which means "surface". Together, these words mean "sandy surface". The indigenous people depicted the word Jalisco with a drawing of a human eye resting upon a mound of sand.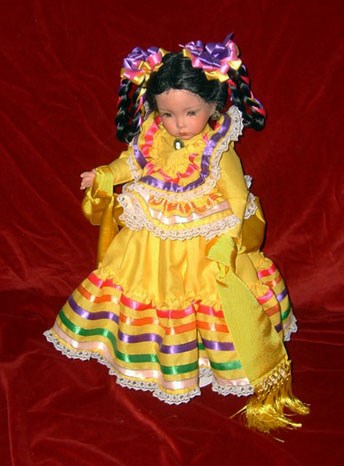 Capital: Guadalajara
Este brillante traje púrpura de influencia victoriana, se compone de una blusa con holanes de listón en el cuello y las cintura; una falda larga, rodeada en la orilla por un arco iris de listones, ansía girar con el movimiento circular que genera el coro de la canción de la capital de Jalisco; Guadalajara; esta ciudad es famosa por ser el lugar donde nació el mariachi, grupos de músicos mexicanos cuyas guitarras, trompetas, violines y voces, convierten cualquier momento en una fiesta.
Guadalajara es uno de los centros urbanos más grandes de México. Su rápido crecimiento económico e industrial, han hecho de la ciudad una gran influencia en las parte occidental de México. En la década de los 80, treinta cuadras del centro de Guadalajara formaron el Centro Histórico, un área de edificios de siglo XVI conectados por grandes plazas de estilo español.
Además de su ocupada capital, el estado de Jalisco es conocido por la agricultura, la producción de tequila, la ganadería y por ser el hogar del lago más grande de México.
La adaptabilidad del maíz a la tierra y el rápido cultivo han convertido a Jalisco en uno de los principales productores en México de este versátil grano. Los molinos de azúcar son también una parte importante de la economía del estado.
El tequila es elaborado del agave azul o tequilana (un tipo de maguey) cultivado en Los Altos de Jalisco. Las hojas se tuestan y machacan para extraer el jugo que es la base del licor mundialmente famoso. El mezcal, hecho del agave americano, también se produce en otras regiones.
El Lago Chapala, localizado en la frontera sudeste con Michoacán, es el más grande de México. Alimentado principalmente por el Tío Lerma, el lago se encuentra actualmente en una crisis ambiental debido a contaminantes industriales y a la baja corriente del río.
Jalisco es uno de los principales productores en México de ganado, así como de productos lácteos, avicultura y miel.
Las artesanías de Jalisco, famosas tanto nacional como internacionalmente, son el cristal soplado, la cerámica, artículos hechos de latón, hierro forjado, papel maché, trabajos de piel y bordado. Otras actividades en la economía de Jalisco incluyen la explotación del petróleo, en la parte sudeste del estado, pesca y minería en la región de Costa Sur.
Sabías que...?
El nombre Jalisco proviene de las palabras Náhuatl xali, que significa "arena", e ixco, que significa "superficie"; unidas significan "superficie arenosa". Los indígenas representaban la palabra Jalisco con un dibujo de un ojo humano que descansa sobre un montón de la arena.
Last updated: February 24, 2015