For Teachers
Available Education Programs
Connect your grade 2-6 students with national parks and local history through fun, hands-on education programs that meet California Curriculum Standards!

All programs are free for schools and include a pre-trip classroom program by rangers. Programs are offered from October through May.
To Schedule a Program or Trip
For Ranger programs (in-person and virtual), please call 661-579-6134 or email us with your request. Programs can be scheduled anytime after 9 a.m. Please include grade and number of students. Schedule programs at least two weeks in advance. Pre-trip and post-trip activities and other resources are available.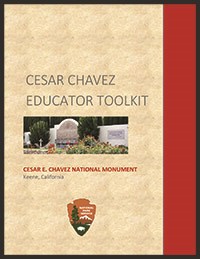 Our Educator's Toolkit is a collection of lesson plans, classroom activity handouts, primary documents, technology-based activities, and resources for K-12 teachers. It's designed to provide educators with step-by-step guidance to enable you to design, implement, and deliver interesting and informative lessons about the life and work of Cesar Chavez. We hope that these materials will help you develop and customize lessons to fit the needs of the students you serve.
For more information about planning an educational program for teachers and school groups, please contact:
e-mail us

César E. Chávez National Monument
PO Box 201
Keene, CA 93531
661-579-6134
Last updated: March 18, 2022