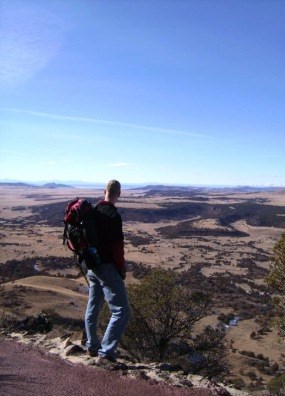 Capulin Volcano Trails
The Crater Rim Trail is a paved, 1 mile loop around the top of the volcano. It is moderately difficult due to steep climbs and descents. Wayside exhibits with panoramic photographs provide visitors information about the surrounding features in the Raton-Clayton Volcanic Field.
The Crater Vent Trail is a 0.2 mile (one-way) trail leading to the bottom of the Capulin's crater. This trail is paved and has an elevation change of 100 feet.

The Lava Flow Trail at the base of the volcano is an unimproved, 1 mile loop that crosses one of the volcano's lava flows. Pick up a trail guide at the visitor center to learn more about Capulin's lava flows and features along the way.

The Nature Trail is adjacent to the visitor center. It is a figure eight sidewalk trail that is handicap accessible. Stop along the way at descriptors discussing plant life, geology, and wildlife in this short walk around a volcanic "squeeze up."

The Boca Trail is an unimproved, 2 mile strenuous loop through the Boca area. This is the vent area at the base from which the volcano's lava flows originated. The trail provides close up views of numerous geologic features.


All trails except the Nature Trail are hiking only. No vehicles, including strollers, are allowed. A child carrier backpack is available for loan at the visitor center.
Pets are prohibited on all park trails.