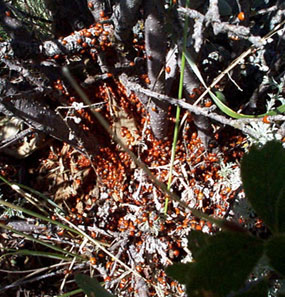 Convergent Lady Beetle
(
Hippodamia convergens
) is named for the converging white lines on its thorax. They usually have 13 black dots on an orange elytra or shell.
Each summer at Capulin Volcano, a new generation of lady beetle participates in a wind-carried migration and takes up residence at the highest points of the volcano. After feeding all summer, they hibernate through the winter on the volcano. Surviving beetles then catch a warm current off the volcano in February to the south to reproduce. Since the wind carries the lady beetle in its migration, it has a hard time controlling its destination and may go to aphid-rich fields near the volcano or maybe to wheat fields in Texas.
During a lifespan of a few months, the females lay up to 500 eggs on leaves and twigs. The eggs hatch and the larvae gorge themselves on the aphids. After the larvae clear the area of aphids, they pupate. Since the larvae usually clean the area of their favorite food, aphids, the adults migrate back to Capulin Volcano to await the opportunity when they too can go back to these aphid-rich areas and lay their eggs.