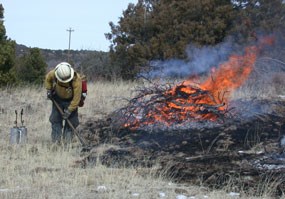 Fire has historically been seen as a destructive force, when it is actually a natural, necessary component of most ecosystems. National Park Service (NPS) policy dictates that all NPS units with "vegetation capable of sustaining fire will develop a fire management plan." Primary policy guidance for implementing the Fire Management Plan (FMP) is contained in Departmental Manual (910 DM), The NPS Management Policies (1988), NPS-77 Natural Resources Management Guideline (1991), and NPS-18 Wildland Fire Management Guideline (1990).
The
FMP for Capulin Volcano National Monument
guides all fire management actions, including the prevention and suppression of wild fire, the application of management ignited prescribed fire, and the reduction of hazardous fuels.
This FMP implements fire management objectives stated in the Capulin Volcano Resource Management Plan:
1. Maintain the diversity of habitats in the monument with particular attention to the remaining short grass prairie.
2. Reduce exotic vegetation.
3. Reduce fuel loading and the possibility of catastrophic fire that would damage resources and threaten visitors.