Ernest Thompson Seton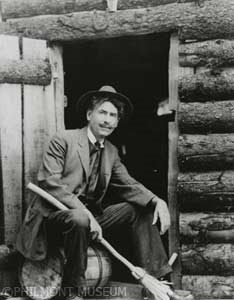 An award winning author and illustrator, Ernest Thompson Seton was a prominent naturalist and founder of the Boy Scouts of America. Seton, an Englishman of Scottish ancestry, came to the United States in the 1880s. Working his way westward, Seton arrived in northeastern New Mexico in 1893 to work as a naturalist and animal trapper.
Seton chronicled many of his experiences in several of his many books, but none are so famous as that of the hunt of Lobo the Wolf. A North American Gray Wolf of unparalleled size, Lobo led a pack of five wolves which roamed the prairie surrounding Capulin Volcano, Sierra Grande and the Currumpaw Creek. Lobo and his pack terrorized ranchers, cowboys, and cattlemen for nearly five years killing by some accounts approximately two thousand head of the region's finest cattle.
Lobo's impact on local ranching was so great that a bounty of one thousand dollars was offered for his capture. Several hunters had attempted to win the promised bounty and failed by the time Seton decided to try his hand. Seton recognized that in such rough country, it was nearly impossible to hunt with "hounds and horses" leaving two options--traps or poison.
Try as he might, Lobo was too cunning for Seton. The wolf evaded every trap Seton could devise and avoided any poison. As he came to know the pack through his pursuit of their leader, Seton began to recognize anomalies in the wolves' behavior. Occasionally, a smaller wolf paw would appear in front of the larger paws belonging to Lobo. Seton found this puzzling until a cowboy claimed he witnessed the white wolf, Blanca, breaking away from the pack. Seton determined that Blanca must be a she-wolf and Lobo's mate, as any other wolf would have been killed for usurping Lobo's leadership. Armed with this information, Seton developed the plan that would profoundly alter his own worldview and end Lobo's reign as the "King of the Currumpaw."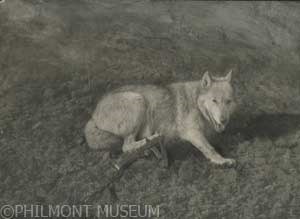 Seton set several obvious traps using the carcass of a heifer. Then, cutting off the head, Seton set two hidden steel traps. Tempted by the smell of fresh blood, the pack investigated but Lobo prevented any from approaching the carcass. One small white wolf, however, examined the cow head and walked directly into the disguised traps. Seton discovered Blanca the next morning. Of the experience, he wrote: "Then followed the inevitable tragedy, the idea of which I shrank from afterward more than at the time. We each threw a lasso over the neck of the doomed wolf, and strained our horses in opposite directions until the blood burst from her mouth, her eyes glazed, her limbs stiffened and then fell limp." It was in those moments that Lobo's powerful howl transformed to a plaintive cry.

Blanca's death ultimately lured Lobo to his own, transforming forever Ernest Thompson Seton and instilling in him the belief that nature was invaluable legacy belonging to our children. "Ever since Lobo, my sincerest wish has been to impress upon people that each of our native wild creatures is in itself a precious heritage that we have no right to destroy or put beyond the reach of our children." With this intent, Seton founded the Boy Scouts of America educating generations of young men about the natural world.

Last updated: February 24, 2015