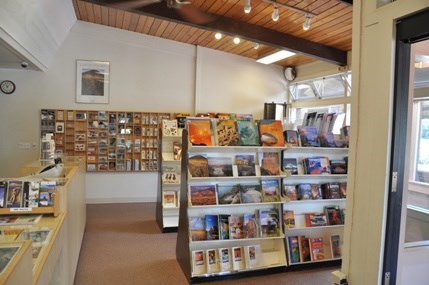 The Park Store at Capulin Volcano National Monument, operated by the nonprofit Western National Parks Association, truly has something for everyone. Whether you seek to deepen your understanding of volcanoes or geology, embrace the history and culture of the high plains, or treat the kids to coloring books, plush wildlife, or nature-themed educational books and toys, you'll find what you're looking for in our family-friendly, well-stocked store. This is also the place to pick up National Park Passports, hiking stick medallions, pins, decals, patches, postcards, maps, Junior Ranger clothing, and all things Capulin Volcano.
From scholarly publications and T-shirts to field guides and souvenirs, each item in our store has been reviewed and approved by National Park Service staff, ensuring that it supports Park mission and goals while also respecting a wide range of budgets and tastes. We are committed to sourcing products made in the USA and/or crafted in New Mexico, whenever possible.
Your cash, check, travelers' checks, VISA, MC, and Discover cards are welcome at our store. Members of the Western National Parks Association receive 15% discounts at all WNPA sites; just ask for a brochure and membership application. Our staff stands ready to offer helpful and knowledgable customer service. And of course, every purchase -- no matter how large or how small -- supports a wide range of programs and projects here at Capulin Volcano.