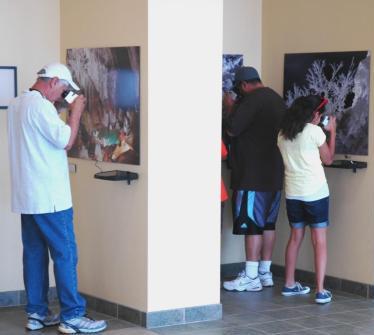 News Release Date:
June 27, 2012
Contact: Paula Bauer
Through August, while the "Underground of Enchantment" exhibit is displayed, visitors to Carlsbad Caverns National Park Visitor Center may view images of Lechuguilla Cave in 3D.  Photographs seen as flat images on the wall seem to become tangible when examined through viewers provided. Images vary from delicate crystals to large rooms taken by several photographers who explore and study Lechuguilla Cave, a vast, undeveloped cave in the park known for its variety of mineral formations and value for scientific research. In addition, the exhibit includes a description of ongoing studies of microbes living in the cave's fragile environment.  
Underground of Enchantment is on loan from the city of Carlsbad, New Mexico. The Carlsbad Museum and Art Center developed and displayed the exhibit last summer and has additional images and 3D films of Lechuguilla Cave currently available. Entry in the Carlsbad Museum is free, from 10 to 5, Monday through Saturday. For more information about the exhibit developers and photographers, visit www.undergroundofenchantment.com.
Entry into the Carlsbad Caverns Visitor Center is free, daily, from 8 to 7. For a complete list of hours of operation, cave tours, events, and recreational opportunities at Carlsbad Caverns National Park, visit www.nps.gov/cave .
More on the origins of the exhibit and a description of opening ceremony in May 2011, including a proclaimation read by Carlsbad Mayor Dale Janway, may be read in park news release from May 9, 2011.