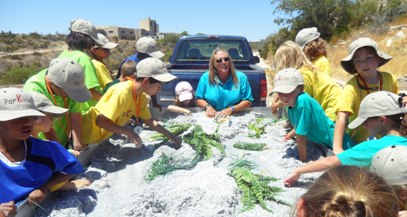 News Release Date:
April 27, 2012
At ParKids Camps, hands-on activities, field trips, and presentations provide fun ways to learn about national parks and natural resources in the Carlsbad area. This summer, Carlsbad Caverns National Park will offer four week-long day camps. ParKids Camp 1, Teen Adventure Week, is for students going into grades 8, 9, or 10 and will be held June 4 through 8. Camp 2 is for kids going into grades 6 or 7 and will be held June 11 through 15. Camp 3 is for those entering grades 4 or 5 and will be held June 18 through 22. And finally, Camp 4 is for kids going into grades 2 to 3 and will be June 25 through 29. Cost of each week-long camp is $50.
 
Transportation will be provided between Carlsbad Caverns National Park Administrative Office (3225 National Parks Highway, Carlsbad) and the day's activity site. On most camp days, participants meet the bus at 8 AM and are returned at 4 pm. The only exception to the daily pickup is for the teenagers on the Teen Adventure week when they go on a 3 day, 2 night backpacking and camping trip in Guadalupe Mountains National Park.

"The response in recent years has been so great that we decided to add another week-long camp," said Carlsbad Caverns National Park Education Specialist Helen Fields. "We target the activities and field trips to the grade level to maximize the education value and the kids' fun!" All four weeks, ParKids camps will include hands-on activities, hikes, talks, special guest speakers, field trips, such as to Living Desert Zoo and Garden State Park, Carlsbad Beach, and Carlsbad Water Treatment Plant, and more. Upon completion of Teen Adventure Week, the teens receive certification in the principles of Leave No Trace Outdoor Ethics. Children who participate should be in good physical condition, have positive attitudes and good discipline.

"With activities like fishing, hiking, painting, making crafts, word games, and trips to the zoo, national forest, and into Carlsbad Cavern," states Carlsbad Caverns National Park Superintendent John Benjamin, "it's not surprising that the children are engaged and enjoying the experiences. I wish that I had more time to get out of the office and join them!"
 
Registration for ParKids day camps at Carlsbad Caverns National Park will be open until May 9. You may only register for ParKids at the National Park Service Administrative Office at 3225 National Parks Highway; no emailed or faxed registrations, please. For further information, contact the park's Education Department at (575) 785-3127.