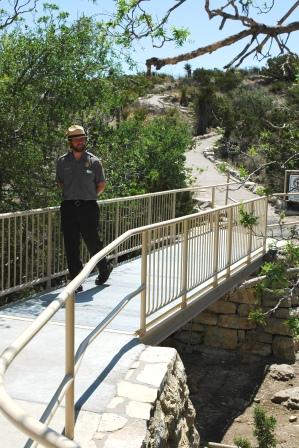 News Release Date:
April 24, 2012
Carlsbad Caverns National Park announces that a walking bridge located on the trail between the park visitor center and Carlsbad Cavern natural entrance has been replaced and is open again for foot traffic. The new bridge replaces an old one that had been in place for several decades and showed signs of severe rust damage.
"Ruben Castillo, the park's General Operations Foreman, and his crew planned, fabricated, and installed the new bridge," explains Carlsbad Caverns National Park Facility Manager Chuck Burton. "They overcame tricky logistics in getting the bridge components to the worksite, and all the work was carried out safely, without incident, and in less time than anticipated."
During the seven days that the bridge was unavailable, visitors accessed the cave's natural entrance route by way of the nature trail, an additional half-mile walk. Elevator service was an option available directly between the visitor center and Big Room and guided tours in Carlsbad Cavern.
Through April 29, the park will join in the countrywide National Park Week celebration and waive entry fees. At Carlsbad Caverns National Park, the general entry fee includes the Natural Entrance and Big Room routes. Fees for audio guides and ranger guided tours will still apply. For a complete list of cave tours and programs and park operating hours, please visit the park's website, www.nps.gov/cave.