Caverns' Passenger Elevator Motors Out for Overhaul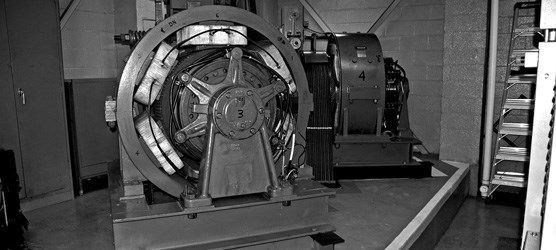 Date:
October 29, 2007
Contact:
Bridget Litten
, 575.785.3024
After providing 31 years of reliable service, the motors that power Carlsbad Caverns National Park's two large passenger elevators, taking park visitors down 750 feet into Carlsbad Cavern, were ready for a major overhaul. On Saturday, October 27, the motors were disassembled, removed from the elevator tower via crane, and shipped to El Paso, Texas.
According to Bill Garwood, elevator mechanic at the Caverns for the past 17 years, the twin Dover G250 motors were originally installed in 1976. They have powered the two passenger elevator cars on over 1.6 million trips into and back out of Carlsbad Cavern. Since the elevator motors were installed, the park has hosted more than 20 million visitors—and most of them have ridden the passenger elevators at least once.
According to facility manager Chuck Burton, the elevator motor overhaul was scheduled for the fall season, when visitation is lighter. "The elevators are a critical part of park operations," said Burton. "We do our best to schedule downtime so that park visitors are inconvenienced as little as possible."
A contract to overhaul the two 65-horsepower motors was awarded last month to Otis Elevator of El Paso. The motors will be thoroughly inspected and worn internal parts will be replaced. After the repairs have been completed—in about 30 days—the motors will be shipped back to the park and reinstalled.
Although the passenger elevators will be offline for the next month, elevator service continues at the park with visitors now being carried in and out of the cave on the smaller pair of freight elevators.
Last updated: February 24, 2015