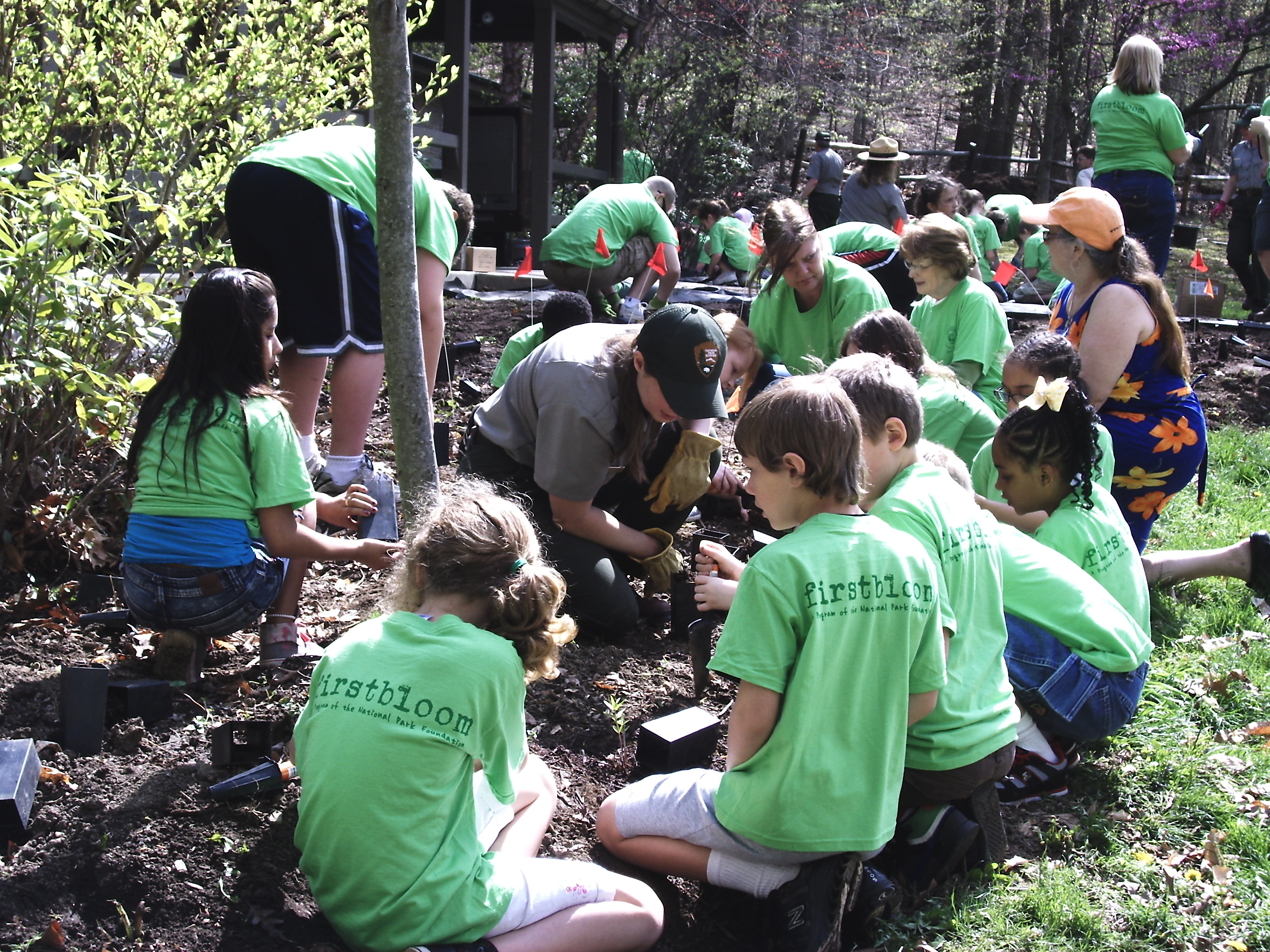 News Release Date:
May 13, 2011
Contact: Debra Mills, 301-663-9388
Eighty fourth grade students from Robert Moton Elementary School in Westminster, Maryland planted a native wildflower garden at Catoctin Mountain Park on April 26 culminating the park's First Bloom program. The National Park Foundation's First Bloom initiative provides an opportunity for fourth to sixth grade students to engage with local national parks. The Robert Moton students, many of whom had not previously visited a national park, have had the chance to learn, hands-on, about the environment in a living classroom during 3 field trips this school year.
This unique educational experience included multiple hands-on activities led by park rangers. Since September 29, the students have been learning about invasive plants and the impact of human actions on the natural environment. They participated in traditional and on-line research about native plants at the school during the winter, then created a garden design after considering the growing characteristics of native wildflowers available through commercial nurseries.
The day's activities included a wildflower walk led by NPS volunteers. The Visitor Center Garden had been prepared for planting by the Green Club of Dwight D. Eisenhower Middle School from Laurel, MD and Girl Scout Troop 81746 from Mt. Airy, MD. These groups turned the soil and transplanted existing wildflowers to a wetlands restoration area in the park as Earth Day projects. The Robert Moton students were the stars of Catoctin Mountain Park's Garden Planting Celebration. They planted about 400 wildflowers before lunch, and then returned to distribute 7 cubic yards of mulch before returning to school.
Park Superintendent Mel Poole spoke about the importance of partnerships and youth involvement during a short ceremony. Robert Moton Principal Judy Walker expressed her gratitude to the National Park Foundation and the National Park Service for the First Bloom program that allowed her students to get outdoors, learn science in natural settings and to enjoy the benefits of helping others. The ceremony concluded with comments from Linda Sundergill, representing the Catoctin Forest Alliance and from fourth graders Hannah and Collin. "Are we coming back next year," was the quote of the day.
Pictures from First Bloom field trips, garden designs and student reflections will be displayed at the park Visitor Center through Memorial Day. Please vote for the Catoctin garden design at www.first-bloom.org.
Catoctin Mountain Park is one of 394 units administered by the National Park Service, U.S. Department of the Interior. The park Visitor Center, located on State Route 77 three miles west of Thurmont, Maryland, is open daily from 10:00 a.m. until 4:30 p.m., and from 8:30 a.m. until 5:00 p.m. on Saturdays and Sundays. Correspondence should be addressed to: Superintendent, Catoctin Mountain Park, 6602 Foxville Road, Thurmont, MD 21788. Our website address is www.nps.gov/cato. General information can be obtained by calling the Visitor Center at (301) 663-9388.