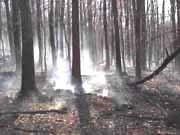 Fire is known to be an extremely important event in the natural ecosystem. Fires maintain vegetation communities, aid in forest regeneration, and are necessary for certain seeds to germinate. Historically, fires have occurred at Catoctin. Experts using dendrochronology techniques, or the study of tree rings, can date fires of Catoctin back to 1876. Since that date fires have occurred in intervals of 6 to 20 years. Some of these fires were created by man to burn areas for increased blueberry production.
In 1936 a 500 acre fire burned on the park's eastern ridge. As a result, forest fire protection was increased and a policy initiated to suppress all wildfires aggressively. The suppression of fire within the park over the past 60 years has allowed a hazardous buildup of dead trees and limbs. A heavy fuel load can be dangerous because it could potentially cause a wildfire to burn hotter, longer, and more intense resulting in significant damage to large trees and human structures.
In recent years, Catoctin has experienced numerous small surface fires with relatively slow rates of spread, but due to high fuel loads the potential for an extensive fire remains high. Some plants at Catoctin, such as the Table Mountain Pine, depend on fire for their survival. These communities require high intensity fires that open the forest canopy and expose mineral soil. The current fire management plan of the park requires that all wildfires be suppressed to protect the historic camps and adjacent private landowners. Prescribed fire may be an option to reduce fire fuel loads in the park and restore some of these ecological processes. However, this requires additional research of fire history, behavior, and effects before implementation.
The park's most recent fire occurred in November of 2001 in the Wolf Rock area. This 3-acre surface fire is believed to have been caused by human carelessness. This fire smoldered for nearly three days while firefighters worked to contain it. After the burn, vegetation study plots were placed in the area to monitor tree regeneration. Within the first year following the burn there were many tree and herbaceous species that regenerated. To learn more about fire in the National Park Service check out the
National Park Service's fire website
.