Catoctin Mountain Park Foundation Document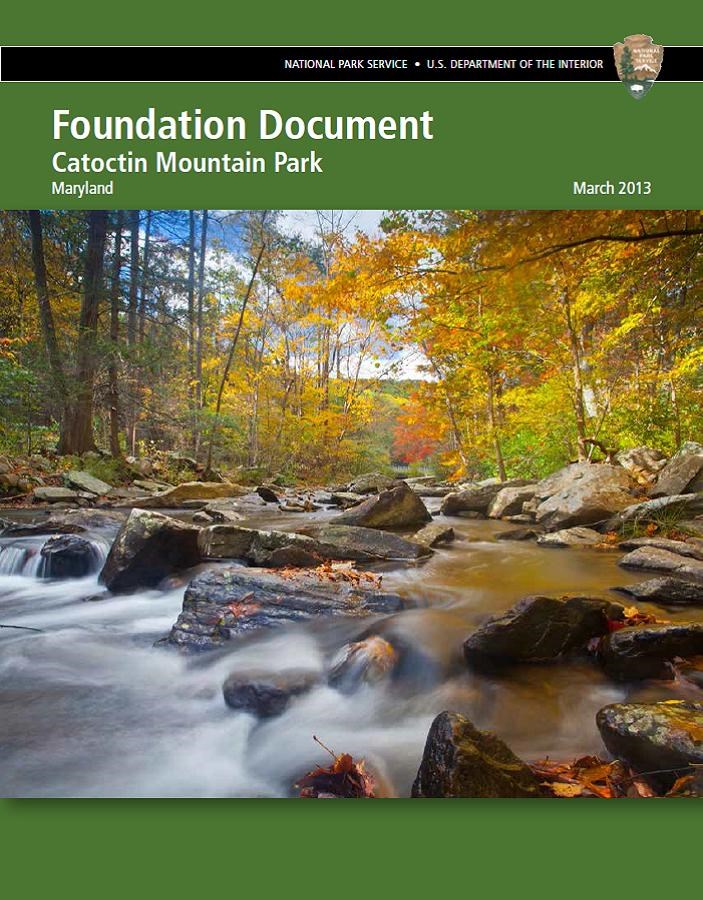 A foundation document serves as the underlying guidance for all management and planning decisions in a national park system unit. It describes the core mission of the park unit by identifying the unit's purpose, significance, fundamental and important resources and values, interpretive themes, assessment of planning and data needs, special mandates and administrative commitments, and the unit's setting in the regional context.
This foundation document was developed as a collaborative effort among park staff, regional staff, and key partners, with the assistance of NPS Denver Service Center (DSC) specialists. A workshop to facilitate this process was held February 28 to March 1, 2012, at Camp Greentop in Catoctin Mountain Park.
The primary advantage of developing and adopting a foundation document is the opportunity to integrate and coordinate all kinds and levels of planning and decision making from a single, shared understanding of what is most important about the park. A foundation document has many functions:

• It helps focus NPS efforts on protecting the most important resources and values of the park before addressing issues that are also important but not essential to achieving the park's purpose and maintaining its significance.
• It provides a basis for ensuring consistency in all park planning and decision making, and for ensuring that all programs and actions contribute to achieving the park purpose and other mandates.
• It provides a means of communicating to stakeholders and NPS employees, via a tangible document, what is most important about a park unit.
• It serves as the basis for the development/amendment of all NPS plans.
• It describes NPS policy-level conditions for key park resources and values based on laws and policies that apply to those resources and values.
• It identifies conditions, threats, and issues potentially impacting the key resources and values of the park.
• It identifies and prioritizes plans and studies that are needed for the park unit.
Last updated: May 16, 2018