Owens Creek Sawmill Exhibit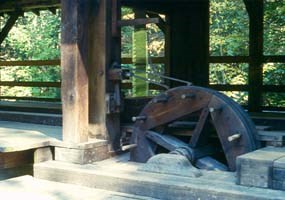 Water-powered sawmills were usually built by entrepreneurs who owned forested land and a little money to invest into a family run business. The lumber cut was used for the building of homes, towns, and barns. Some of the lumber was exported to other countries. The old sawmills with their slow production of about 48 planks for a 12 hour day at best, are long gone. The mill pits and banks of the races stand in mute testimony to the long hours and hard work that once marked these sites.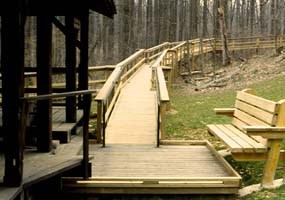 The exact date of construction and first operation of the vertical sawmill near today's Owens Creek Campground is unknown, but it is shown on an 1857 map with the same area indicated as deeded back to 1808, mentioning rights to water ways. The same 1857 map also shows 4 additional sawmills on Owens Creek and one on Big Hunting Creek near the present day Visitor Center.
The sawmill near the present day Owens Creek Campground probably operated until after the late 1890's. A reconstruction of the mill was built by the Youth Conservation Corps on the site of the original sawmill. Construction of the campground eliminated the possibility of water power operations, but the gears and what would have been underwater works are all visible from an accessible boardwalk.
Last updated: May 27, 2020