Volunteer
Thank you for your interest in the numerous volunteer opportunities at Catoctin Mountain Park.

Due to Covid-19 safety guidelines and recommendations, Catoctin Mountain Park is temporarily suspending recruitment of new volunteers. Once normal operations resume, recruitment will begin again. Please check this page regularly for updates.

If you are interested in volunteering at Catoctin Mountain Park, please call the Park Volunteer Coordinator at the visitor center at (301) 663-9388, or e-mail us. Please remember that service project requests need to be in writing and planned well in advance.

Volunteer Positions
Visitor Center Volunteers: One of the first stops in any National Park is the Visitor Center. Welcome our visitors and provide basic information on how to enjoy the park. Weekends or weekdays.

Campground Hosts: Volunteer hosts help visitors at Owens Creek Campground, assist rangers in fee collection, and provide minor maintenance and clean up of campsites. The Campground Host site has hook-ups. A one month commitment is required. April 2021 update: the park is looking for two Campground Hosts the majority of the season. Please see this press release for more details.

Camp Misty Mount Hosts: Volunteer hosts at Camp Misty Mount assist with cabin check ins and check outs, provide minor maintenance, and assist in staffing the camp office. A cabin is provided for hosts. A one month commitment is required.
Trail Stewards: The park staff always needs extra 'eyes and ears' looking for fallen trees, erosion problems, pets off leash, and answering visitors questions. Turn your hike into a park patrol! Sign up at the visitor center and set your own schedule.

Bark Ranger Trail Stewards: Catoctin Mountain Park is looking for friendly canines and their human companions to help monitor and maintain the many miles of trails the park has to offer. All Volunteer Bark Ranger Trail Stewards will receive their very own Bark Ranger bandana!

Equestrian Trail Stewards: Horseback riders are welcome to join Catoctin Mountain Park's "Hoof Ranger" program. Volunteers monitor and report trail conditions on our many miles of equestrian trails! Volunteers must provide their own horse and riding equipment.
Service Projects: If you are part of an organized group or an Eagle Scout candidate and wish to provide a service to Catoctin Mountain Park, please contact the volunteer coordinator with your interests. We will need to know the size of your group, age level, proposed date of the project and number of participants. Each group project required direct coordination with a member of our staff so please plan well in advance. Project ideas include: exotic plant removal, trail/trash cleanup, and painting projects.
Unique Skills: On occasion we have very specialized projects and are looking for a unique skill. Volunteers have helped us with fly-tying demonstrations, blacksmith shop demonstrations, digital photography of artifacts, oral history tape transcribing, just to name a few. If you think you might have a special skill we could use, let us know and we'll work together if possible.
Artist in Residence: Are you an artist who would like to spend two weeks immersed in the natural and cultural resources of the Catoctin Mountains? Consider applying for our Artist In Residence program.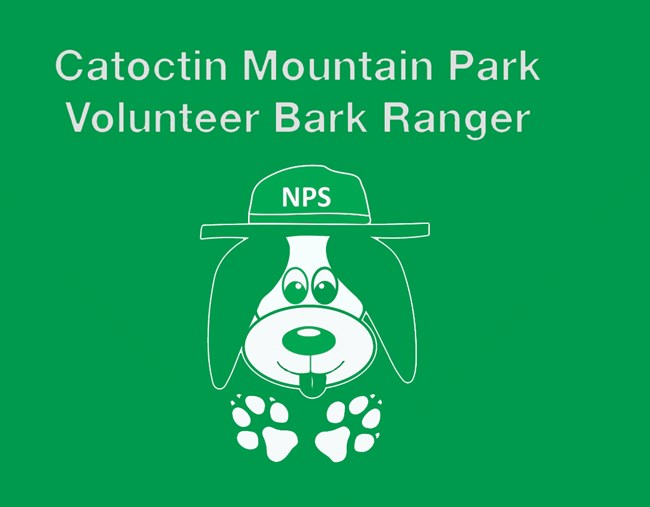 Catoctin Mountain Park Volunteer BARK Ranger Trail Steward Program
Catoctin Mountain Park is looking for friendly canines and their human companions to help monitor and maintain the many miles of trails the park has to offer. All Volunteer BARK Ranger Trail. Stewards will receive their very own Bark Ranger bandana!

Catoctin Mountain Park's trail system is one of its most valued and utilized resources. Park staff continually work to ensure that visitors have an enjoyable, safe trail experience. "Bark Rangers" and their owners volunteer to hike and monitor the trails as a key part of our trail maintenance efforts. We count on our Trail Stewards and their Bark Ranger friends to observe trail conditions and report any changes to Visitor Center (VC) staff. Just as importantly, dogs and their owners help ensure that visitors understand Park rules and engage in only safe trail activities. Bark Rangers will be equipped with Volunteer Bark Ranger bandana.

Responsibilities
Walk multiple miles of Park trails during each rove

Make contact with visitors to address any concerns

Demonstrate and remind visitors of proper park dog etiquette.

Inform the VC staff of any major trail problems or concerns, and/or fill out a Trail Condition Report form

Use a Park radio to report any emergencies to the Duty Ranger
Qualifications
Pet and Owner comfortable hiking for extended time periods (2+ hours), often on uneven ground

Ability to own and use adequate hiking/pet equipment

Provide own dog, water bowl, leash and all other related pet gear

Willingness to engage with Park visitors and VC staff
For more Information Contact :
Volunteer Coordinator, Catoctin Mountain Park
at 301-663-9388 or
email us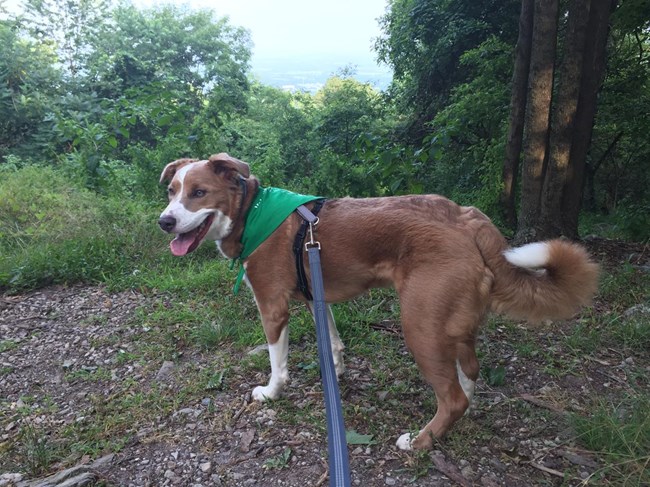 Join our Corps of Volunteer BARK Rangers like Ranger Sequoia!
B.A.R.K. Rangers are pets and their people who have pledged to protect themselves and park resources through for simple steps.
Bag your poop.
Always use a leash.
Respect wildlife.
Know where you can go.
Current Volunteer Opportunities