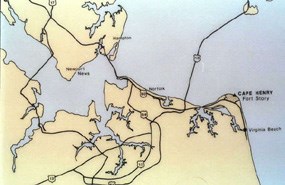 Located on the south side of the Chesapeake Bay, Cape Henry Memorial sits within the Joint Expeditionary Base Little Creek-Fort Story. From Interstate 64 E take exit 282 to merge onto US-13N/Northhampton Boulevard towards the Chesapeake Bay Bridge. Then take US-60 E/Shore Drive exit toward Beaches, this is the last exit before the Chesapeake Bay Bridge. Follow Shore Drive and turn left onto Atlantic Ave and proceed to Gate 8. Follow Atlantic Ave to Cape Henry Memorial.



The base no longer issues passes at the gate to visit the park and you cannot drive a personal vehicle onto the base unless you have official base access, i.e., military ID, retiree ID, dependent ID, etc. Visitors must now park in a designated parking spot near the gate and board a free shuttle that will take them to the park

Contact: Joint Expeditionary Base Little Creek-Fort Story Public Affairs Office 757-462-8423/25
The Cape Henry Memorial site is unattended by National Park Service personnel, and there are no facilities or special services available. The National Park Service "Passport" book stamp for Cape Henry Memorial is located at the NPS Yorktown Battlefield Visitor Center gift shop and when open at the Cape Henry Lighthouse, operated by Preservation Virginia.